GBP/USD is on the back foot, falling even below 1.57 as the dovish BOE inflation report weighs on the pound.
What's next for cable? The team at SocGen provides 3 reasons why cable is a good risk reward short trade.
Here is their view, courtesy of eFXnews:
Cable is a good risk-reward short for a number of reasons, argues SocGen.
"Firstly, the UK MPC will be hiking when the growth rate has already peaked.
Secondly, growth in late 2015 and through 2016 will be affected by the need to tighten fiscal policy.
And thirdly, the UK is more sensitive to European stagnation by virtue of proximity if nothing else. Political uncertainty, the possibility of Brexit and the size of the UK's current account deficit are all additional but secondary reasons for short GBP/USD to be a favourite trade," SocGen clarifies.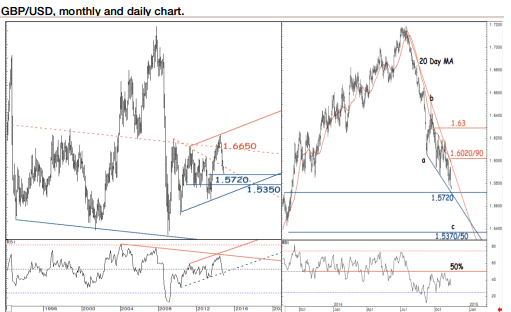 On the technical front, SocGen notes its GBP/USD is extending an ongoing downtrend after re-integrating a multiyear triangle.
"Monthly RSI is breaking support and the pair is poised to show a deeper correction. A break below 1.5720 will indicate a further downtrend towards 1.5370/50," SocGen projects.
For lots  more FX trades from major banks, sign up to eFXplus
By signing up to eFXplus via the link above, you are directly supporting  Forex Crunch.