The AAVE price has continued its inexorable descent since reaching a bi monthly high on July 6 at $313. It is now at least 30% down from those levels with the last 24-hour close clocking in at the $220 mark. If you haven't yet taken the plunge with AAVE, check out this How To Buy Cryptocurrency Beginner's Guide.
Although the situation looks quite bleak for AAVE at present, it seems that downside momentum has slowed down considerably. The drop from 6 July has been pretty brutal but the $220 level seems to be holding quite well. One may also expect a rebound from the bottom with the price reacting to buying pressure and going up accordingly.
Short Term Price Forecast For AAVE Price: Looking To Bounce Back?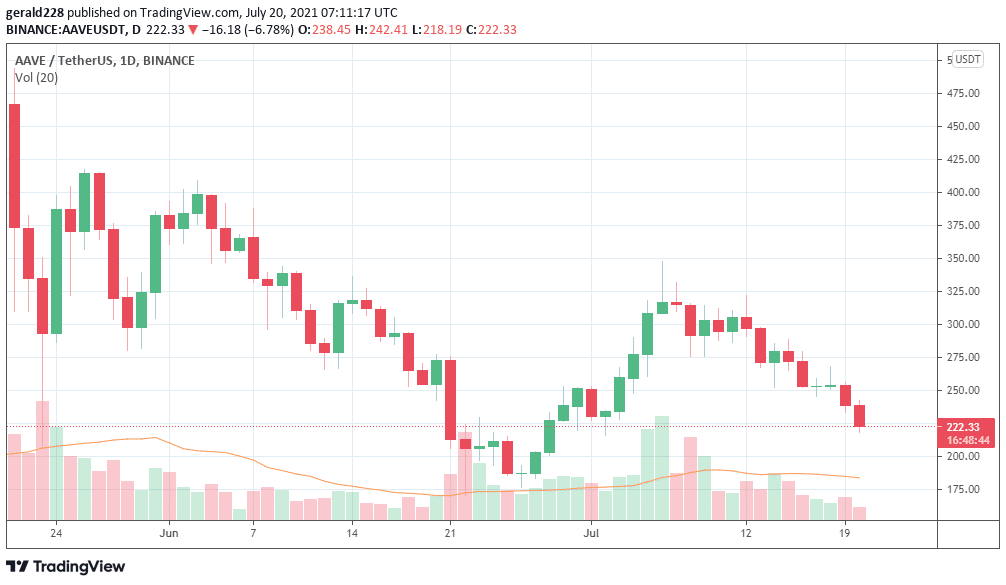 As already indicated, the AAVE price is currently down by around 30% from its July 7 high of $313. There was also another big descent on July 3rd when it reached the $400 level only to drop to the $28 mark on 6 June. This was a 25% drop over 2 hours and after a small rally to $313, AAVE continued descending and is now at the $220 mark.
Short term, the AAVE price is expected to settle at around the $215-$220 levels before beginning a leg up to perhaps test the $250 mark. All depends on the situation with the crypto market which is currently in quite a depressed sentiment with AAVE no less affected.
A daily close above the $230 level would indicate that AAVE is in reversal and a test of the $250 mark would be the next step. This would be a 12% increase from the current price.
Alternatively a bearish thesis would see the AAVE price drop below the $200 level and settle at around the $186 mark where there is strong support. If you haven't yet bought some cryptocurrency, now would be a good time to grab hold of some so check out these Best Cryptocurrency Brokers.
Long Term Price Forecast: Looking Bullish Till End Of Year
Although the AAVE price has suffered somewhat of late with the brutal descent touching the 70% mark from all time highs, it does look like there's a reversal on the cards. Some analysts are predicting a further drop in July to below the $200 mark where some consolidation may be found and AAVE begins the leg up.
For end of year, predictions are even more bullish with the price once again expected to reach $600, a level last seen in early May. As mentioned earlier, a lot depends on the general situation in the crypto market with several coins now at more than 50% below their all-time highs.
Looking to buy or trade [coin name here]now? Invest at eToro!
Capital at risk
Get the 5 most predictable currency pairs