Idea of the Day
One of the most consistent trends in FX last year was AUDNZD, in contrast to both the yen and Aussie versus the US dollar, both of which proved to be erratic and frustrating for longer term players. The stronger than expected inflation data from New Zealand overnight has given the cross a further boost, with prices rising 1.6% in the fourth quarter. The prospect for a move to parity on the cross really depends on the actual divergence we see from the respective central banks. We continue to see scope for at least one more easing from the RBA in Australia, whilst the prospect of a tightening in New Zealand remains fairly strong, the RBNZ retaining a tightening bias within its statements. Such a policy divergence is one of the strongest fundamental signals for FX, so if seen it could remain the cross of choice for longer-term macro players in FX. Note that Australian inflation data will be released overnight.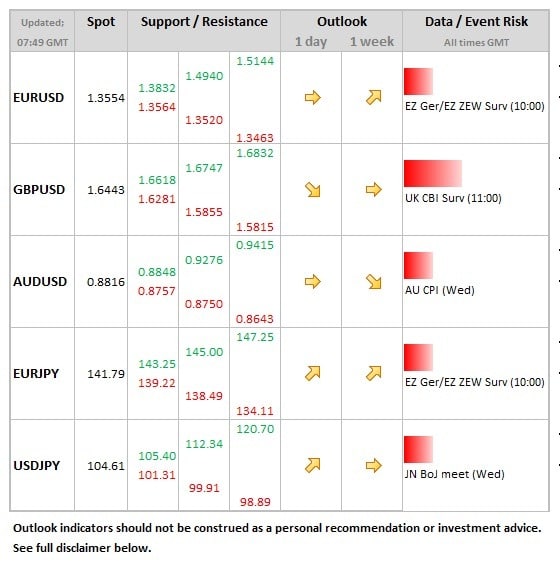 Data/Event Risks
AUD:  Australia releases its quarterly inflation numbers on Wednesday, which are expected to show inflation rising from 2.2% to 2.4%. This will be a pretty key number, because a softer reading will see expectations of a possible RBA cut increase.
EUR:  The ZEW data can have an impact on the single currency if notable away from consensus, with the German series seen rising modestly from 62 to 64.
Latest FX News
EUR:  Taking on a weaker tone at the start of European trading, as the dollar takes on a slightly more assured tone. But longer term uptrend on EURUSD undermined by recent down move.
AUD:  New low for the year against the US dollar carved out yesterday on the back of the weaker sentiment towards the Aussie, but decisive break lower not yet seen. Focus moving to CPI data released on Wednesday.
JPY:  The two day BoJ meeting starts today, with results released tomorrow. Focus is now falling onto the consumption tax increase, which arrives in April and ensuring that growth does not slow substantially thereafter.
Further reading:
New Zealand inflation stronger than expected – NZD/USD escapes uptrend support
EUR/USD: Below the broken trendline, the outlook is lower