The Aussie was up against the US Dollar Monday with the Greenback lower against other currencies due to easing concerns over the violent unrest in Egypt and speculation over an increase in near term European interest rates. The Aussie was trading at 0.9959 up 0.26%, as of this writing. Is the Egyptian unrest cause for genuine concern?
Here's a quick update on technicals, fundamentals and community trends.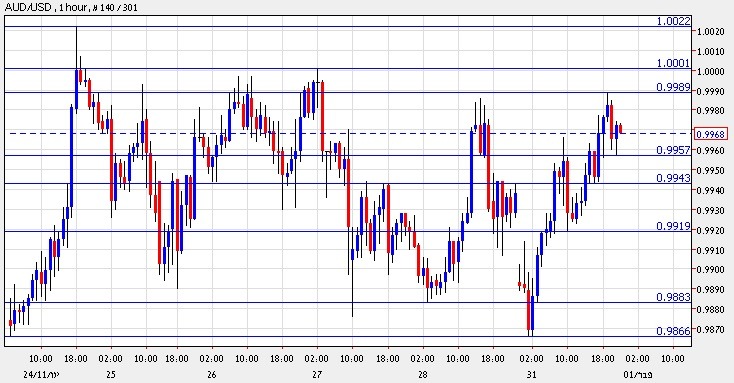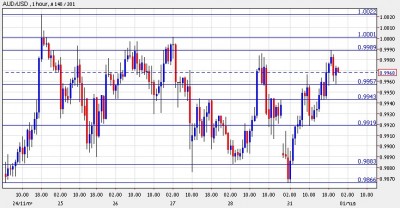 AUD/USD Technicals
Previous sessions: AUD/USD traded higher Monday against the US Dollar due to increased investor speculation in the European currencies following heightened concerns over Egyptian unrest and a possible increase in short term European interest rates
Current range: 0.9884 – 0.9990
Further levels: Below: 0.9930, 0.9945, 0.9956 Above: 0.9982,0.9997, 1.0008
AUD / USD likely to find support at Thursday's low of 0.9867, and resistance at 1.0021.
AUD/USD Fundamentals
00:30 – Australia – HPI q/q
03:30 – Australia – Cash Rate Exp. 4.75% no change
03:30 – Australia – RBI Rate Statement Exp. no change in monetary policy
05:30 – Australia – Commodity Prices
15:00 – US – ISM Manufacturing PMI Exp 57.8
15:00 – US – Construction Spending m/m Exp. 0.1%
15:00 – US – ISM Manufacturing Prices Exp. 73.6
All Day – US – Total Vehicle Sales Exp 12.8M
* All times are GMT.
For the major events due later in the week, see the  AUD/USD forecast.
AUD/USD Sentiment
The Reserve Bank of Australia (RBA) is expected to leave its monetary policy unchanged due to the negative economic impact of the Queensland flooding.
The Egyptian violent unrest is causing investors to worry about its affect on the global economy and oil prices, as Egypt controls the Suez Canal, a key international trade conduit, particularly for oil. Concerns over the Egyptian unrest have has caused the US Dollar to trade lower against other currencies.
Currensee Community: 92% are short, 8% are long. 382 open positions in real accounts trading this pair at the moment. The community is expecting lower levels of the pair ahead.