The Aussie rallied Thursday against the US Dollar. The Aussie was trading at 1.0142 up 0.40%, as of this writing. Technical indicators point to a reversal ahead, but for how long will the Aussie uptrend continue?
Here's a quick update on technicals, fundamentals and community trends.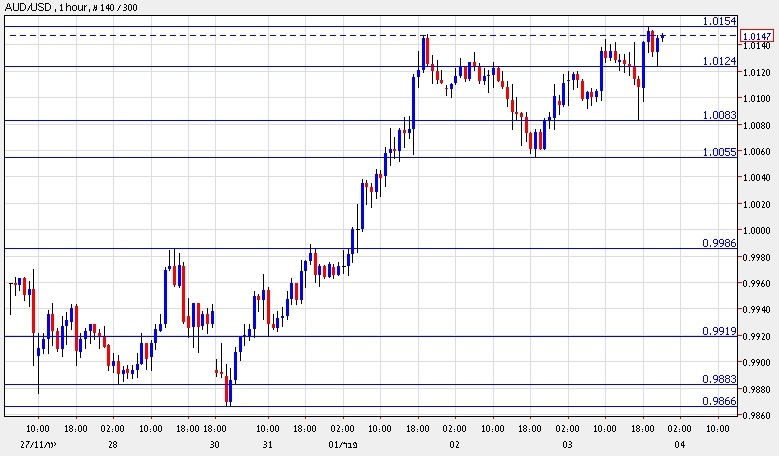 AUD/USD Technicals
Previous sessions: AUD/USD traded higher Thursday against the US Dollar. Technical data continues to indicate a bearish future for the Aussie.
Current range: 1.0087 – 1.0155
Further levels: Below: 1.0105, 1.0118, 1.0126 Above: 1.0147, 1.0160, 1.0168
AUD / USD likely to find support at Thursday's low of 0.9867, and resistance at today's high of 1.0155.
AUD/USD Fundamentals
00:30 – Australia – RBA Monetary Policy Statement
01:00 – US – FOMC Member Kocherlakota Speaks
13:30 – US – Non-Farm Employment Change                           Exp. 138K
13:30 – US – Unemployment Rate                                                                                                     Exp. 7.6%
13:30 – US – Average Hourly Earnings m/m                                                            Exp. 0.2%
18:00 – US – FOMC Member Fisher Speaks
 * All times are GMT.
For the major events due later in the week, see the  AUD/USD forecast.
AUD/USD Sentiment
US Government reports labor productivity increased more than expected in the fourth quarter of 2010.
US Dollar stronger against other currencies today on the back of largely good financial data.
 Currensee Community: 93% are short, 7% are long. 421 open positions in real accounts trading this pair at the moment. The community is expecting lower levels of the pair ahead.