The Aussie declined again Friday against the US Dollar closing the week at 1.0021, down 1.1% for the week following an indication by the Reserve Bank of Australia that the near term benchmark interest rate would remain unchanged, and a stronger US Dollar following fears of a military coup in Egypt.
Here's a quick update on technicals, fundamentals and community trends.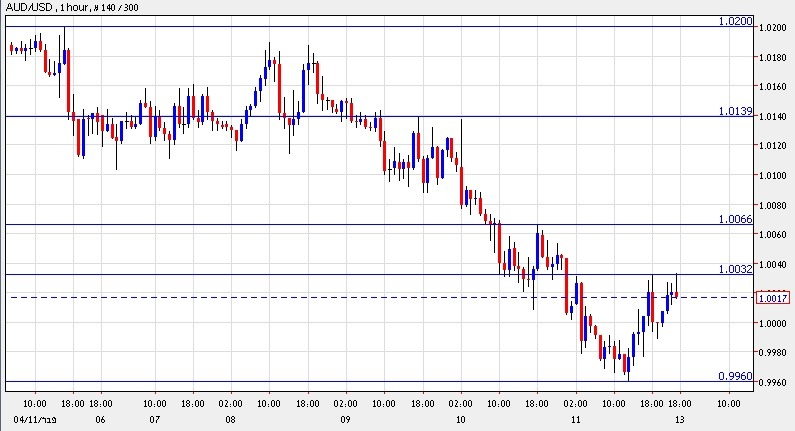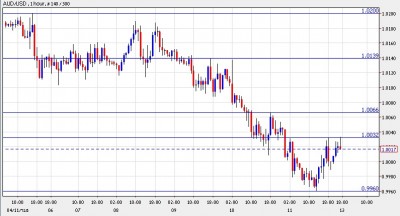 AUD/USD Technicals
Previous sessions: The Aussie traded lower Friday against the US Dollar falling to 0.9960 during the dayandthen consolidatingto1.0021 by the close of trade. The Aussie slumped following the indication by the RBA that the near term benchmark interest rates would remain unchanged.
Current range: 0.9961 – 1.0021
Further levels: Below: 0.9998, 1.0005, 1.0013 Above: 1.0028, 1.0035, 1.0043
AUD / USD likely to find support at 0.9864, and resistance at 1.0139.
AUD/USD Fundamentals
14th-18th – US – Mortgage Delinquencies
10:00 – US – FOMC Member Dudley Speaks
19:30 – Australia – Monetary Policy Meeting Minutes
* All times are GMT.
For the major events due later in the week, see the  AUD/USD forecast.
AUD/USD Sentiment
Stocks across the world declined late last week following fears of a military coup in Egypt and driving investors to seek the safety of the US Dollar
RBA Governor Glenn Stevens testified Friday that there is no reason to change interest rates in the foreseeable future.
The Australian central bank warned that there seems to be a shift in consumer borrowing behavior, posing a risk for future economic growth. This and the impact of the recent natural disasters to hit the Australian coast could lower the first quarter GDP by as much as 1%.
Currensee Community: 93% are short,7% are long. 403 open positions in real accounts trading this pair at the moment. The community is expecting lower levels of the pair ahead.