The Australian Dollar was lower today against the US Dollar on the back of spreading unrest in the Middle East, driving an increase in demand for the safety of the Greenback.
What direction is the Australian Dollar headed in?
Here's a quick update on technicals, fundamentals and community trends.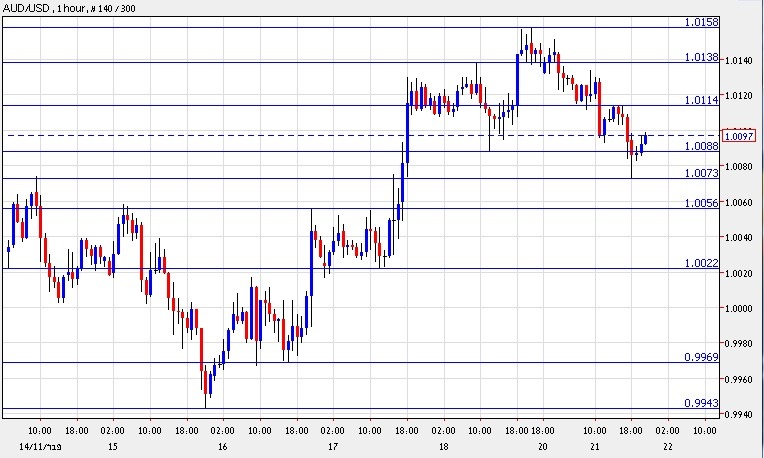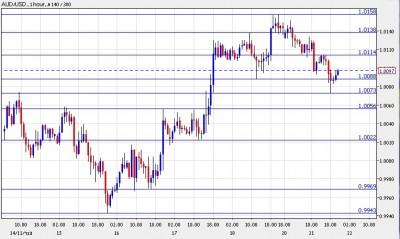 AUD/USD Technicals
Previous sessions: The Aussie was down Monday against the US Dollar as traders sought the relative safety of the Greenback following the spreading of unrest in the Middle East and the uncertainty of the greater effect of the spreading unrest.
Current range: 1.0075- 1.0145
Further levels: Below: 1.0003, 0.97889, 0.94048 Above: 1.0187, 1.0385, 1.0581
AUD / USD likely to find support at 1.0015, and resistance at 1.0189.
AUD/USD Fundamentals
09:00 – US       S&P/CS Composite-20 HPI y/y           Exp. -2.2%
10:00 – US       CB Consumer Confidence                       Exp. 65.1    
10:00 – US       Richmond Manufacturing Index           Exp. 18          
13:00 – US         FOMC Member Kocherlakota Speaks            
17:00 – Australia         RBA Gov Stevens Speaks                
19:30 – Australia         Construction Work Done q/q       Exp.1.5%    
19:30 – Australia         Wage Price Index q/q                   Exp. 0.9%
* All times are GMT.
For the major events due later in the week, see the  AUD/USD forecast.
AUD/USD Sentiment
China upped its Reserve Ration requirement by 50BP on Friday. These Hikes are having less of an effect on the Aussie as they have been occurring more frequently over the past year.
While there is inherent uncertainty in the Aussie from a technical standpoint, there is also greater sentimental uncertainty following the spread of unrest in the Middle East to additional nations, and the uncertain fallout that this will have on the region in particular and the global economy as a whole.  
Currensee Community: 93% are short, 7% are long. 432 open positions in real accounts trading this pair at the moment. The community is expecting lower levels of the pair ahead.