The Australian Dollar was lower again Tuesday against the US Dollar on the back of continued concern  of Middle East unrest and stronger US Consumer Confidence.
The Aussie was trading at 0.9976 down 1.05% at the time of this writing.
How will the Middle East unrest affect the Aussie?
Here's a quick update on technicals, fundamentals and community trends.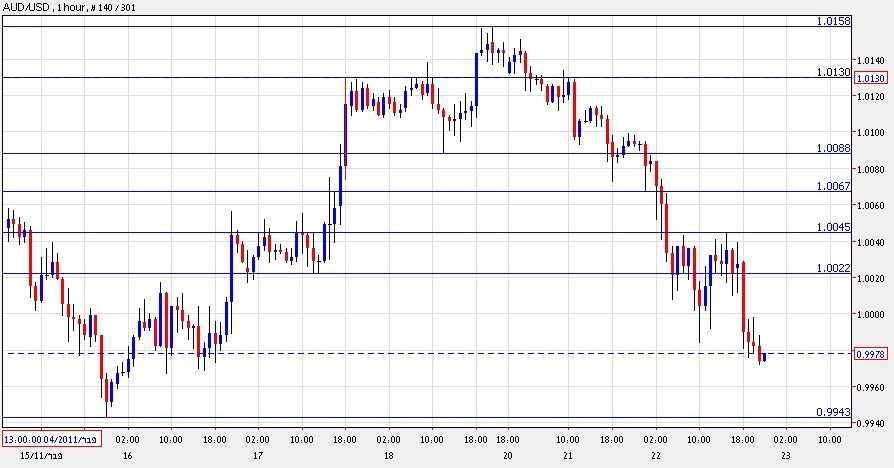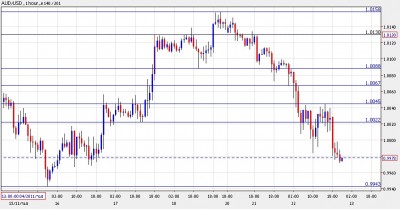 AUD/USD Technicals
Previous sessions: The Aussie was down again Tuesday against the US Dollar
Current range: 0.9973 – 1.0086
Further levels: Below: 0.9958, 0.9969, 0.9976 Above: 0.9994, 1.0005, 1.0012
AUD / USD likely to find support at today's low of 0.9976, and resistance at 1.0157.
AUD/USD Fundamentals
10:00   US         Existing Home Sales       Exp. 5.27M
13:30   US         FOMC Member Plosser Speaks            
18:00  Australia         CB Leading Index m/m            
19:30  Australia         Private Capital Expenditure q/q       Exp. 2.2%
* All times are GMT.
For the major events due later in the week, see the  AUD/USD forecast.
AUD/USD Sentiment
While there is inherent uncertainty in the Aussie from a technical standpoint, there is also continued sentimental uncertainty following the spread of unrest in the Middle East to additional nations, and the uncertain fallout that this will have on the region in particular and the global economy as a whole.
An earthquake hits New Zealand Canterbury area on a magnitude of 6.3.
The US reported better than expected Consumer Confidence figures for February by 5.5 points. This marks the highest consumer confidence level in the last three years. This is an indication of confidence in the recovery of the US economy.
Currensee Community: 93% are short, 7% are long. 397 open positions in real accounts trading this pair at the moment. The community is expecting lower levels of the pair ahead.