The Australian Dollar was higher Wednesday against the US Dollar after the Greenback was lower against other currencies across the board.
The Aussie was trading at 1.0012 up 0.25% at the time of this writing.
How will the Middle East unrest affect the Aussie?
Here's a quick update on technicals, fundamentals and community trends.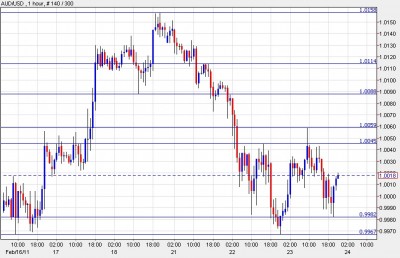 AUD/USD Technicals
Previous sessions: The Aussie traded down today reaching 0.9984 in afternoon trading before rebounding to 1.0012 as of this writing.
Current range: 0.9981 – 1.0059
Further levels: Below: 0.9964, 0.9973, 0.9991 Above: 1.0018, 1.0027, 1.0045
AUD / USD likely to find support at Tuesday's low of 0.9967, and resistance at 1.0157.
AUD/USD Fundamentals
08:30   US         Core Durable Goods Orders m/m       Exp. 0.4%    
08:30   US         Unemployment Claims       Exp. 403K
08:30   US         Durable Goods Orders m/m       Exp. 2.5%    
10:00   US         New Home Sales       Exp. 330K      
10:00   US         OFHEO HPI m/m       Exp. -0.2%        
10:30   US         Natural Gas Storage       Exp. -73B      
11:00   US         Crude Oil Inventories       Exp. 1.1M
* All times are GMT.
For the major events due later in the week, see the  AUD/USD forecast.
AUD/USD Sentiment
The current violence in Libya is shaking investor confidence as Libya is an oil exporter. Investors fear the effect that the current events will have on the flow of oil from Libya and its effects on oil prices.
The US Dollar was lower today against other currencies today following speculation that interest rates would be raised by the Bank of England and the European Central Bank.
The US reported stronger than expected existing home sales figures for the month of January, achieving an 8 month high. This underscores the rising consumer confidence figures we saw earlier this week and the US economy receovery.
Currensee Community: 86% are short, 14% are long. 416 open positions in real accounts trading this pair at the moment. The community is expecting lower levels of the pair ahead.