AUD/USD  posted modest gains last week, as  the pair  dropped below  the 0.94 line, closing  at 0.9385. This week's key event is NAB Business Confidence. Here is an outlook on the major market-movers and an updated technical analysis for AUD/USD.
Australian employment numbers were weak and the RBA maintained rates but again railed against the high value of the Australian dollar. The US dollar got a boost as NFPs surged unexpectedly.
[do action="autoupdate" tag="AUDUSDUpdate"/]
AUD/USD graph with support and resistance lines on it. Click to enlarge: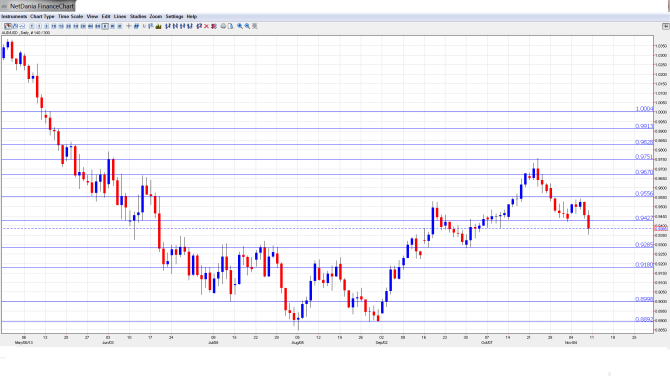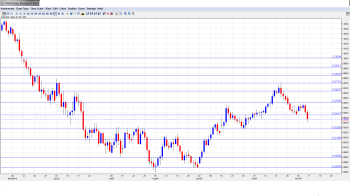 Home Loans: Monday, 00:30. Home Loans is an important gauge of activity in the housing market as well as consumer spending. The indicator had posted a string of gains since February, but disappointed in September with a decline of 3.9%. This was well off the estimate of -2.1%. The markets are expecting a strong turnaround for October, with an estimate of 3.6%. Will the indicator meet or beat this rosy prediction?
NAB Business Confidence: Tuesday, 00:30. Business Confidence has been climbing quickly in recent months and hit 12 points in September, its highest level since February 2011. The markets are hoping that the upward trend continues in October.
Westpac Consumer Confidence: Monday, 23:30.  This indicator  is an important event since improved consumer confidence usually translates into increased consumer spending. After posting two strong gains, Consumer Sentiment posted a  decline of -2.1% in October. Will the indicator rebound this month?
Wage Price Index: Wednesday, 00:30. This inflation indicator has been very steady, posting three gains of 0.7% in the past four readings. More of the same is expected in October, with the estimate standing at 0.8%.
MI Inflation Expectations: Thursday, 00:00. Inflation Expectations helps analysts track actual inflation trends. The index has pointed to inflation above 2.0% for most of 2o13. The September release came in at an even 2.0% and the markets are hoping for a similar gain in the upcoming release.
New Motor Vehicle Sales: Thursday, 00:30. This is an important consumer spending indicator, as a new vehicle is a big-ticket purchase. The indicator declined -0.1% last month, and the markets are hoping for a turnaround in the October release.
AUD/USD Technical Analysis
AUD/USD started the week at 0.9467 and rose to a high of 0.9543, as resistance held at 0.9556 (discussed last week). The pair then reversed course, dropping  all the way to a low of 0.9353.  The pair closed the week at 0.9385.
Live chart of AUD/USD: [do action="tradingviews" pair="AUDUSD" interval="60″/]
Technical lines from top to bottom:
We begin at parity, a key resistance line. This psychologically significant level has remained intact since May.
Next, there is resistance at 0.9913. This is followed by resistance at 0.9828.
The line of 0.9751 provided key resistance in early June and with AUD/USD losing ground, it remains a strong resistance line.
0.9670 was a cap for the pair in late May. It was briefly breached in late October but continues in a resistance role.
0.9556 continues to provide resistance. This line held firm as AUD/USD moved higher before retracting.
0.9428 was busy in the first half of October and started the week in a support role. It was breached late in the week and is providing weak resistance. This line could see action early in the week if the Aussie reverses direction.
0.9283 saw a lot of action in the months of June and July, alternating between resistance and support roles. It has provided steady support since mid-September.
0.9180 is the next support level. This is followed by the round number of 0.9000. This psychologically important level was breached in early September, when the Australian dollar started a strong rally which saw it break past the 0.95 line.
The final line for now is 0.8893. This has been a strong support line since August 2010, when the Australian dollar put together a strong rally which saw it climb above the 1.10 line.
I am bearish on AUD/USD.
The Australian dollar continues to struggle, and has lost about four cents since climbing above 0.97 in late October. The RBA continues to remind its listeners that the Aussie is overvalued, although it is reluctant to lower interest rates. If Australian business and consumer confidence releases fail to impress the markets, we could see the strong US dollar post more gains against the Aussie this week.