AUD/USD drifted higher Friday mostly as a result of good economic data on US non-farm payrolls.  This comes on the back of the Aussie's tumble last week amid concerns over the economic impact of flooding in Queensland. AUD/USD was trading at 0.9956 (+0.10%) at the time of this writing.
Here's a quick update on technicals, fundamentals and community trends.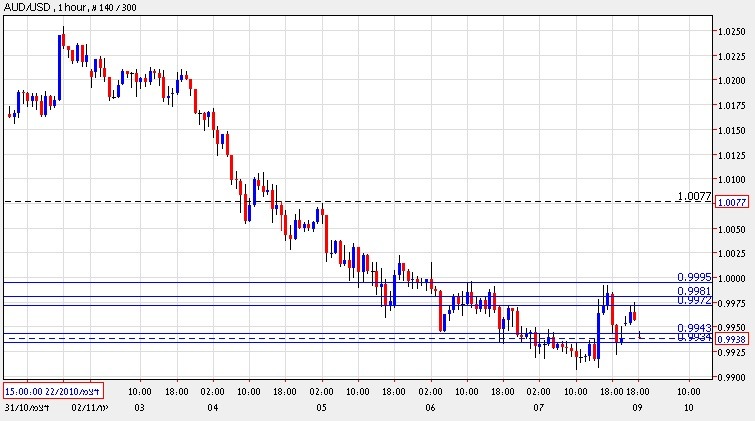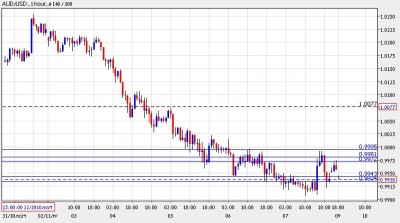 AUD/USD Technicals
Previous sessions: AUD/USD continued falling on Friday, reaching a low point of 0.9906, but then gaining slightly on the back of the better-than-expected US non-farm payrolls report.
Current range: 0.9992 – 0.9907
Further levels: Below: 0.9935, 0.9944, 0.9954 Above: 0.9973, 0.9982, 0.9992
AUD / USD likely to find support at 0.9861, and resistance at 1.0075.
AUD/USD Fundamentals
12:30 Australian ANZ Job Advertisements
12:30 Australian Retail Sales m/m
21:00 New Zealand  NZIER Business Confidence
* All times are GMT.
For the major events due later in the week, see the  AUD/USD forecast.
AUD/USD Sentiment
U.S. December non-farm payrolls rise less-than-expected
U.S. December unemployment rate falls more-than-expected
Sentiment on the USD/AUD has risen to about 50% but technical indicators may indicate another dip.
EUR/USD on shaky ground due to possible Portugal bailout
Currensee Community: 92% are short, 8% are long. 381 open positions in real accounts trading this pair at the moment. The community expecting possible light increases followed by further declines in AUD/USD.