The pair fell below parity Friday on the heels of a lower global growth outlook and Chinese monetary tightening. The pair seems to be headed for lower territory. The pair closed the week at 0.9905 (-0.41% for the week).
Here's a quick update on technicals, fundamentals and community trends.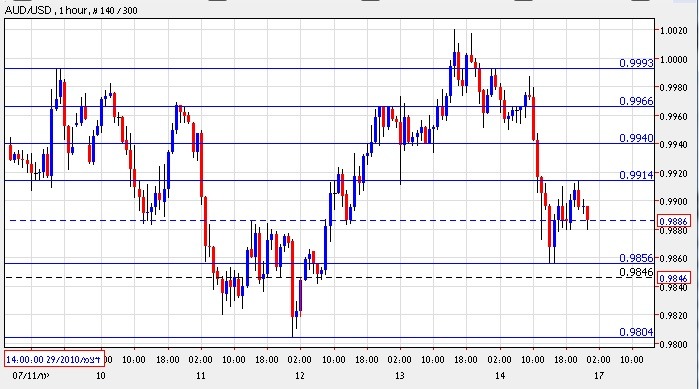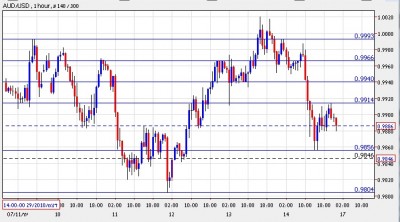 AUD/USD Technicals
Previous sessions: AUD/USD traded lower Friday hitting 0.9905. The pair reacted to numerous market forces driving the price down.  
Current range: 0.9857 – 0.9987
Further levels: Below: 0.9882, 0.9887, 0.9892 Above: 0.9902, 0.9907, 0.9912
AUD / USD likely to find support at Wednesday's low of 0.9803, and resistance at 0.9992.
 AUD/USD Fundamentals
00:30 – Australia – New Motor Vehicle Sales m/m
12:15 – US – FOMC Member Plosser Speaks
* All times are GMT.
For the major events due later in the week, see the  AUD/USD forecast.
 AUD/USD Sentiment
The Queensland flooding expected to have a negative impact on growth due to disruption of the area's coal exports and farming.
The Chinese Inflationary Monetary Policy tightening negatively affected the Aussie by resulting in lower commodity prices. China is Australia's largest trading partner.
Latest Australian Job data lower than expected, adding to the weak economic data coming out of Australia and negatively impacting the AUD/USD.
The Australian Central Bank is largely expected to leave the benchmark interest rate unchanged at 4.75% this quarter.
Technical indicators point to a lower AUD/USD ahead as the pair fail to push through resistance levels on Friday.
Currensee Community: 93% are short, 7% are long. 365 open positions in real accounts trading this pair at the moment. The community is expecting lower levels of the pair ahead.