The Aussie was higher again Tuesday against the US Dollar ahead of the EU Finance Ministers meeting today. Will the Aussie continue this upward trend or will we see a continuation of the Bearish move since the beginning of the year? The consensus is that the pair seems to be headed for lower territory. The pair was trading at 0.9980 (+0.38%) at the time of this writing.
Here's a quick update on technicals, fundamentals and community trends.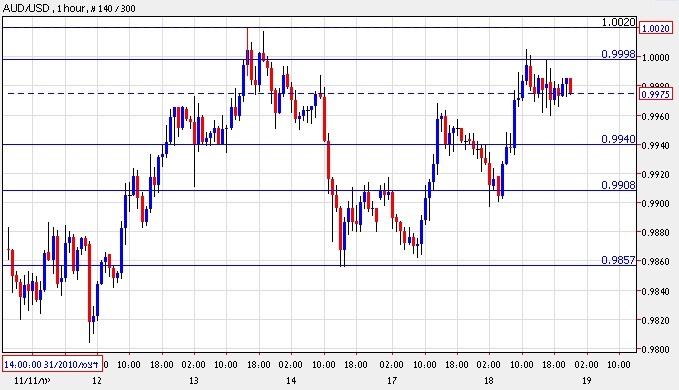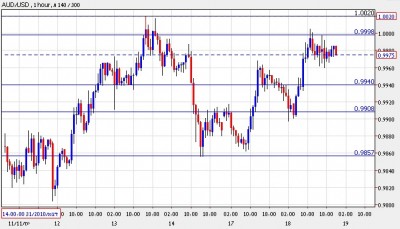 AUD/USD Technicals
Previous sessions: AUD/USD traded higher Tuesday hitting 0.9980 at the time of this writing. The pair is still showing overall technical weakness but could continue an uptrend.  
Current range: 0.9902 – 1.0006
Further levels: Below: 0.9963, 0.9968, 0.9975 Above: 0.9987, 0.9992, 0.9999
AUD / USD likely to find support at Wednesday's low of 0.9857, and resistance at 1.0019.
AUD/USD Fundamentals
13:30 – US – Building Permits
13:30 – US – Housing Starts
21:45 – New Zealand – CPI exp. 2.3%
23:30 – Australia – MI Inflation Expectations
 * All times are GMT.
For the major events due later in the week, see the  AUD/USD forecast.
AUD/USD Sentiment
Economists estimate the cost of the Queensland flooding at AUD 20 Billion.
US Dollar down today against European currencies on the back of strong European economic data.
The Market is highly skeptical that EU policymakers will be able to iron out a comprehensive solution to the EU debt crisis.
Currensee Community: 92% are short, 8% are long. 379 open positions in real accounts trading this pair at the moment. The community is expecting lower levels of the pair ahead.