The Aussie traded lower Tuesday against the Greenback on the back of new US data on consumer confidence and home prices. The Aussie is trading at 0.9925 down 0.63%, as of this writing.
Here's a quick update on technicals, fundamentals and community trends.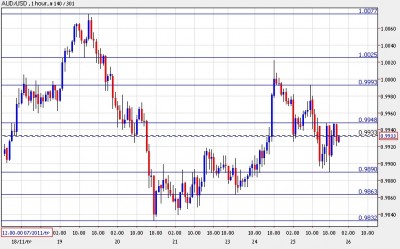 AUD/USD Technicals
Previous sessions: AUD/USD traded lower Tuesday on the back of weaker home prices data.
Current range: 0.9890 – 0.9994
Further levels: Below: 0.9907, 0.9915, 0.9932 Above: 0.9957,0.9965, 0.9982
AUD / USD likely to find support at Friday's low of 0.9833, and resistance at 1.0022.
AUD/USD Fundamentals
02:30 – US – President Obama to deliver State of the Union Address
15:00 – US – New Home Sales exp. 302k
15:30 – US – Crude Oil Inventories exp. 0.9m
19:15 – US – FOMC Statement
19:15 – US – Federal Funds Rate
20:00 – New Zealand – Official Cash Rate exp. 3.00% unchanged
20:00 – New Zealand RBNZ Rate Statement
23:30 – Australia – MI Leading Index m/m
* All times are GMT.
For the major events due later in the week, see the  AUD/USD forecast.
AUD/USD Sentiment
Australian CPI figures were lower than expected.
The Australian annualized inflation rate dropped to 2.7%, the lowest level in a year and moving upwards at the lowest rate in two years.
Investors are still worried about the negative impact of the Queensland flooding on growth, pointing to the recent PPI data that showed the smallest gain in a year.
US Consumer confidence data showed higher than expected levels but at the same time disappointing data on Home Prices.
Currensee Community: 93% are short, 7% are long. 413open positions in real accounts trading this pair at the moment. The community is Bearish on the Australian Dollar, expecting lower levels of the pair ahead.