AUD/USD is lower again today, showing continued relative weakness and dropping below support, reaching 0.9998 at the time of this writing. Have we seen the current AUD/USD top?
Here's a quick update on technicals, fundamentals and community trends.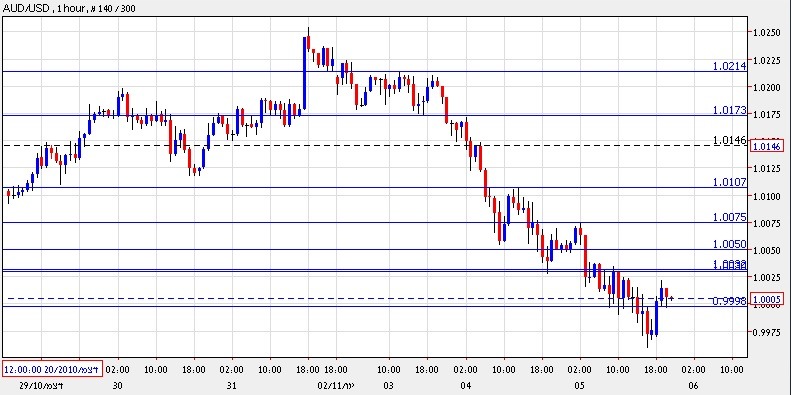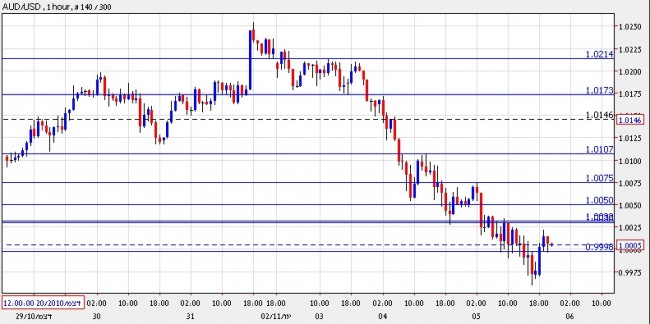 AUD/USD Technicals
Previous sessions: AUD/USD continued its decline against the US Dollar today trading at 0.9998 at the time of this writing.
Current range: 0.9961 – 1.0058
Further levels: Below: 0.995, 0.9925, 0.9917, 0.9840, 0.9724 Above: 0.999, 1.0030, 1.0035, 1.0050, 1.0075, 1.0105
AUD / USD likely to find support at today's low of 0.9961, and resistance at 1.0255.  
AUD/USD Fundamentals
13:30 –  USD Unemployment Claims
15:30 – USD Natural Gas Storage
Tentative – USD Treasury Currency Report
* All times are GMT.
For the major events due later in the week, see the  AUD/USD forecast.
AUD/USD Sentiment
USD gained strong momentum today after data from the labor and services sector beat market expectations.
Traders seem to be considering the potential for a much larger AUD/USD decline.
Short term AUD/USD sentiment is negative
US jobs data drives USD higher
Currensee Community: 92% are short, 8% are long. 389 open positions in real accounts trading this pair at the moment. The community expecting a much larger decline in AUD/USD.