The Aussie traded lower Wednesday against the US Dollar following a generally lower Greenback after a US report of worse than expected private sector employment growth, and lower manufacturing activity.  The Aussie was trading at 1.0659, down 0.12% at the time of this writing.
Here's a quick update on technicals, fundamentals and community trends.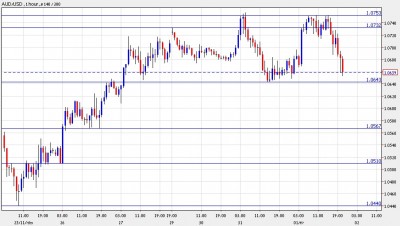 AUD/USD Technicals
Previous sessions: The Aussie traded initially higher during the first half of the session, before gradually falling throughout the afternoon  to its current level.
Current range: 1.0653 – 1.0753
Further levels: Below: 1.0624, 1.0641, 1.0661 Above: 1.0698 1.0715, 1.0735
AUD / USD likely to find support at 1.0609, and resistance at a high of 1.0757.
AUD/USD Fundamentals
02:30  Australia     Retail Sales m/m    Exp. 0.4% Prev. -0.5%

02:30  Australia     Trade Balance    Exp. 2.13B Prev. 1.74B

13:30  US     Unemployment Claims    Exp. 416K Prev. 424K

13:30  US     Revised Nonfarm Productivity q/q    Exp. 1.8% Prev. 1.6%

13:30  US     Revised Unit Labor Costs q/q    Exp. 0.8% Prev. 1.0%

15:00  US     Factory Orders m/m    Exp. -0.3% Prev. 3.4%

15:30  US     Natural Gas Storage    Exp. 92B Prev. 105B

16:00  US     Crude Oil Inventories    Exp. -1.7M Prev. 0.6M

23:45  New Zealand     Building Consents m/m     Prev. 2.2%
* All times are GMT.
For the major events due later in the week, see the AUD/USD forecast.
AUD/USD Sentiment
The Aussie was boosted by a report that Australia's economic growth contracted less than expected during the first quarter.

US private sector jobs were expected to rise 178k but data shows that it only rose 38k, far below expectations.
Currensee Community: 50% are short, 50% are long. 341 open positions in real accounts trading this pair at the moment.  The community is currently neutral on expectations of future levels of the pair ahead.
Get the 5 most predictable currency pairs