The Aussie closed the week higher against the Greenback at 1.0716, up 0.45% for the day and up 0.2% for the week by the close of Friday's trading.  The Aussie rallied to a three-week high against the Greenback following poorer than expected US economic data and increased expectation that the US Federal Reserve will maintain its loose monetary policy.
Here's a quick update on technicals, fundamentals and community trends.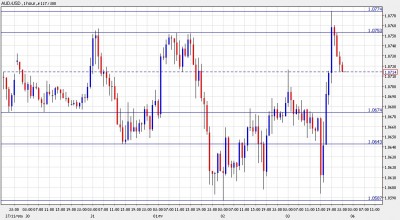 AUD/USD Technicals
Previous sessions: Friday had the Aussie trade sideways in the first art of the session, dipping to its low of the day towards mid-day and then rallying throughout the afternoon, consolidating to its close of the week towards the end of the session. before consolidating to its closing level.
Current range: 1.0596 – 1.0775
Further levels: Below: 1.0694, 1.0705, 1.0713 Above: 1.0732, 1.0743, 1.0751
AUD / USD likely to find support at 1.0588, and resistance at the high of 1.0888.
AUD/USD Fundamentals
01:30  Australia     MI Inflation Gauge m/m     Prev. 0.3%  
02:30  Australia     ANZ Job Advertisements m/m     Prev. 1.0%  
08:30  US     FOMC Member Plosser Speaks  
18:15  US     Treasury Sec Geithner Speaks      
22:30  US     FOMC Member Fisher Speaks
* All times are GMT.
For the major events due later in the week, see the AUD/USD forecast.
AUD/USD Sentiment
The Aussie rallied to a 3 week high against the Grenback, on the back of a slew of disappointing US economic data.
The US reported Friday a much lower than expected increase of non-farm payrolls. The figures showed an increase of 54k, significantly lower than the expected 169k.
Poor US economic data released last week included an increase in the US unemployment rate from 9.0% to 9.1% in April, and a slump in consumer confidence and manufacturing activity.
Australia reported in increase in retail sales, but a narrower trade surplus in April.
The Australian economy contracted 1.2% for the first quarter, higher than the expected 1.0%. This was due to lower exports as a result of the natural disasters to have hit Australia during the first quarter.
Currensee Community: 0% are short, 0% are long. 0 open positions in real accounts trading this pair at the moment.  
Get the 5 most predictable currency pairs