The Australian Dollar was higher Wednesday against the US dollar.
The Aussie was trading at 1.0145, up 0.42% at the time of this writing.
Where is the Aussie headed in the short-term?
Here's a quick update on technicals, fundamentals and community trends.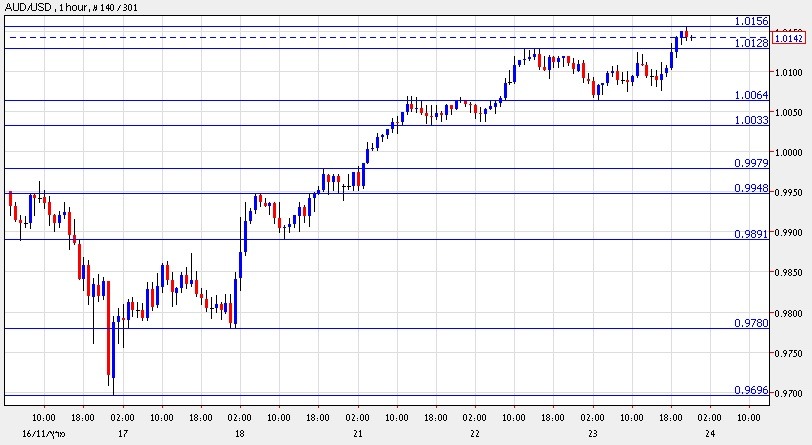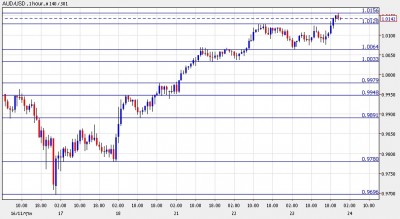 AUD/USD Technicals
Previous sessions: The Aussie gradually fell during the early part of the session, reaching 1.0083 by mid-session and then rising to a high of 1.0155 before consolidating to its current level. Technical indicators seem to be currently pointing to an unclear short-term future.
Current range: 1.0064- 1.0157
Further levels: Below: 1.0121, 1.0131, 1.0136 Above: 1.0151, 1.0161, 1.0166
AUD / USD likely to find support at Wednesday's low of 0.9827, and resistance at 1.0144.
 AUD/USD Fundamentals
08:30   US         Core Durable Goods Orders m/m       Exp. 2.1% Vs. -3.0%    
08:30   US         Unemployment Claims       Exp. 388K Vs. 385K    
08:30   US         Durable Goods Orders m/m       Exp. 1.2% Vs. 3.2%    
10:30   US         Natural Gas Storage       Exp. -11B Vs. -56B
18:30   New Zealand  RBNZ Gov Bollard Speaks
19:30   US        FOMC Member Duke Speaks
* All times are GMT.
For the major events due later in the week, see the  AUD/USD forecast.
 AUD/USD Sentiment
Fear of a nuclear disaster in Japan has for the moment been relieved as Japan continues to report progress in attaining control over the troubled reactors. Investor sentiment remains jittery although some confidence has been restored due to high radiation levels in food and products from Japan.
The US reported today that new home sales was lower than expected for the month of February, dropping 16.9%
Currensee Community:93% are short, 7% are long. 402 open positions in real accounts trading this pair at the moment. The community is expecting lower levels of the pair ahead.