The Australian Dollar was higher Monday against the US dollar, after the Greenback was broadly lower against other currencies following expectations of a rate hike by the European Central Bank.
The Aussie was trading at 1.0250, up 0.15% at the time of this writing.
Here's a quick update on technicals, fundamentals and community trends.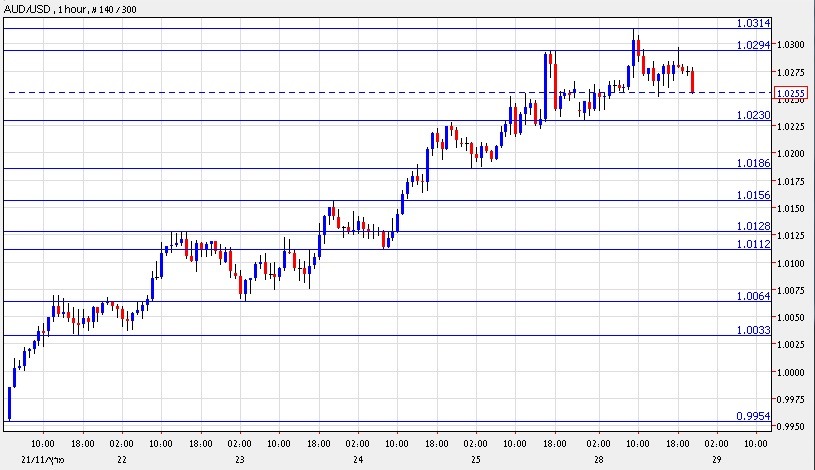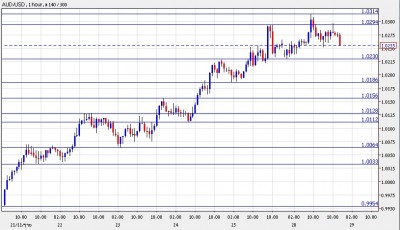 AUD/USD Technicals
Previous sessions: The Aussie traded widely in the second half of the day, reaching a high of 1.0295 and then trading in a tight range before dropping sharply to 1.0250 from 1.0278.
Current range: 1.0240 – 1.0314
Further levels: Below: 1.0264, 1.0268, 1.0271 Above: 1.0278, 1.0282, 1.0285
AUD / USD likely to find support at Wednesday's low of 1.0065, and resistance at today's high of 1.0314.
AUD/USD Fundamentals
09:00   US         S&P/CS Composite-20 HPI y/y       Exp. -3.1% Vs. -2.4%    
10:00   US         CB Consumer Confidence       Exp. 64.9 Vs. 70.4
* All times are GMT.
For the major events due later in the week, see the  AUD/USD forecast.
On US economic news, the US reported today that consumer spending rose more than expected, climbing 0.7% in February. Also, pending home sales rose by an unexpected 0.3%, rising 2.1% in February.
A tremendous amount of uncertainty still lies around the true extent of the Japanese tsunami and its local and global economic impacts. Furthermore, the ongoing nuclear crisis in Japan is also a cause of uncertainty and fear.
The price of oil closed this past week at its highest level in over 2 years, fueled by the ongoing unrest in the Middle East including Western military involvement in Libya, and the lack of clarity as to how and when the Libyan revolt will end and whether or not Libyan leader Muammar Qhaddafi will remain in power. Additionally, it is unclear to what extent the US will continue its military role in Libya.
Currensee Community: 93% are short, 7% are long. 457 open positions in real accounts trading this pair at the moment. The community is expecting lower levels of the pair ahead.