The upcoming week consists of three market moving events in Australia, as well as political echoes after the elections ended in a hung parliament. Here's an outlook for these events and an updated technical analysis for AUD/USD.
AUD/USD chart with support and resistance lines marked. Click to enlarge: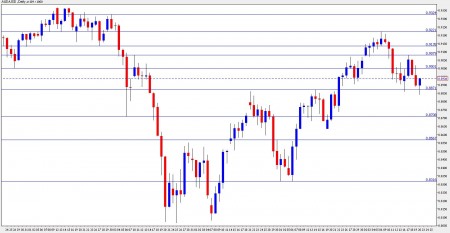 The meeting minutes and RBA governor Glenn Stevens in particular, hinted that there's still lots of time for more rate hikes. This, together with the echoes from Ben Bernanke's statement, hurt the Aussie. Now, the elections and other events will rock the currency. Let's start:
Construction Work Done: Published on Wednesday at 1:30 GMT. This housing sector indicator has been doing better than other ones, rising, posting neat growth rates. After the last quarter saw a weaker than expected growth rate of 1.9%, there's hope for a better growth rate this time – 3.1%.
CB Leading Index: Published on Thursday at 1:00 GMT. The Conference Board builds this indicator from 7 economic indicators . Most of these indicators have already been released, yet the publication still moves the currency. Three months of rises in this index will probably be followed by a fourth one, at a rate of about 0.3%.
Private Capital Expenditure: Published on Thursday at 1:30 GMT. This quarterly indicator always rocks the Aussie, as it's a good gauge for the whole economy. After a superb Q4, expenditure dropped in Q1 by 0.2%, disappointing the Aussie. A recovery is expected this time, with a 2.4% rise.
AUD/USD Technical Analysis
The Aussie started the week with a ounce off the 0.8870 level mentioned in last week's outlook. It later struggled with the 0.90 line, managed to cross it, but couldn't breach the 0.9080 line. The fall was strong and almost ended in losing 0.8870, but the pair finally closed at 0.8938.
AUD/USD now ranges between 0.8870, which served as a clear line in both directions, and the round number of 0.90, which provides minor resistance.
Above, 0.9080 proved itself once more in the past week, and is now a major line of resistance. Higher, 0.9135 supported the pair when it was trading higher, and recently worked as resistance.
Above, 0.9220 capped the Australian dollar at the beginning of the month and also supported it in April – it's a strong resistance line. The veteran 0.9327 line is still far in the distance.
Looking down below 0.8870, the next line of support is at 0.8710, which was a swing low in May and also provided support later on. It's followed by 0.8567, which worked as support in May and as a resistance line back in 2009.
Even lower, 0.8316 was a double bottom in July, and provides major resistance. Lower, the year-to-date low of 0.8066 is the ultimate support line.
I am bearish on the Aussie this week.
There are no major fundamentals that can lift the pair this week (such as employment figures), and the global gloomy mood also play against the Australian dollar. Add the  federal elections in Australia that left the country with a hung parliament and you get the bears on the move. This political uncertainty will hurt the Aussie, at least at the beginning of the week.
Further reading:
Want to see what other traders are doing in real accounts? Check out Currensee. It's free..