This is a very busy week for Aussie traders: a rate decision and employment figures will rock the Aussie, alongside other events. Here's an outlook for these events as well as an updated technical analysis for AUD/USD.
AUD/USD daily graph with support and resistance lines on it. Click to enlarge: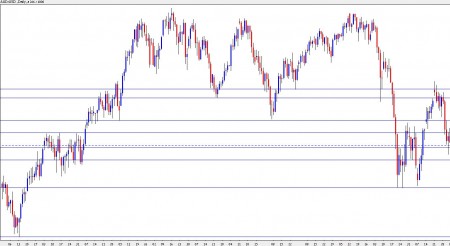 The Chinese move on the yuan, although doubted by many, still has a positive impact on the Aussie. Also one Chinese event is expected this week. Let's start:
AIG Services Index: Published on Sunday at 23:30 GMT. The Australia Industry Group has released a very disappointing number last time – 47.5 points. A figure below 50 points means economic contraction – the probably outcome of many rate hikes. It's now expected to stay at the same zone. Actual: 48.8
ANZ Job Advertisements: Published on Monday at 1:30 GMT. The amount of jobs advertised in the media proves to be an excellent gauge for the official employment figures later in the week. A more modest rise than 4.3% is expected this time. Actual: 2.7%.
Trade Balance: Published on Tuesday at 1:30 GMT. A great surprise was seen last month, as Australia saw a first surplus in over a year. The 130 million dollar surplus will probably be followed by a bigger one this time. A return to a deficit will hurt the Aussie.
Rate decision: Published on Tuesday at 4:30 GMT. The six rate hikes that Australia already saw in this tightening cycle already had an impact in taming inflation, especially in the housing market. After last month's pause, another pause will probably be seen now, with Glenn Stevens leaving the Cash Rate at 4.50%. Hints about future policy will probably be seen in the RBA Rate Statement.
AIG Construction Index: Published on Tuesday at 23:30 GMT. This second PMI-like release from AIG dipped last month to 53.2 points, but was still good, standing above 50 points. Another slide is predicted this time, but it's likely to remain above 50.
Westpac Consumer Sentiment: Published on Wednesday at 00:30 GMT. Following three months of big drops in consumer sentiment, including 5.7% and 7% drops, this survey of 1200 people is expected to rise this time, but not a significant scale.
Employment data: Published on Thursday at 1:30 GMT. Last month was great once again, with a rise of almost 27K in jobs (employment change). Also the unemployment rate was superb, dropping unexpectedly from 5.4% to 5.2%. This time, both figures aren't expected to change significantly.
Chinese Trade Balance: Published on Friday. Following the revaluation of the yuan, Australia's main trade partner could import more Australian goods. We'll now see if the Chinese  surplus  will continue growing – meaning there's more room for consumption of goods from Australia.
AUD/USD Technical Analysis
The Aussie fell during the first part of week and made a false break below 0.8360. From there it recovered to the 0.8477 area and bounced off this line as well.
Note that some of the lines have changed since last week's outlook. AUD/USD is now supported by 0.8360. A break below this line will find support at 0.8275, which was a support line during June.
Lower, the year-to-date low of 0.8066 is the next strong line of support that is still far at the moment. Even lower, 0.77 is the next line.
Looking up above 0.8477, we reach 0.8567 continues to be an important pivotal line. A break above this line will mark a run upwards.
Higher, 0.8735, which was the low line in December, is the next line of support. It's followed by the round number of 0.88 and then the round number of 0.90. Both were important lines.
I turn neutral on AUD/USD.
Last week's drop in building approval and weak retail sales cast a shadow over the Aussie's strength. Together with the uncertainty of the Chinese move, the pair will probably see some range trading. The unemployment figures can supply the fuel for a long term rally, but this isn't expected this week.
Further reading:
Ready to connect with real Forex traders? Currensee is the first Forex trading social network.