Bitcoin price has significantly recovered from a dip to $30,420 touching $40,000 again.
The digital asset is under extreme pressure as volatility continues to rise.
Bitcoin whales have accumulated a lot of Bitcoin over the past months.
Bitcoin had a wild run this week, dropping from a high of $41,350 to a low of 30,420 in less than 48 hours. The panic sell-off was stopped on its tracks at the 26-EMA on the daily chart as bulls quickly bought the dip and created a V-Shape recovery pushing BTC towards $40,100 again. However, in the past 24 hours, Bitcoin price is down again by around 10%, trading at $35,270 at the time of writing.
What are the bullish signs for Bitcoin?
One of the most bullish metrics for the long-term is the massive increase in whales. According to statistics from Santiment, the number of large holders with 1,000 BTC or more has risen significantly since October 2020 and especially in the past month. It shows that large holders are still interested in Bitcoin despite its current price.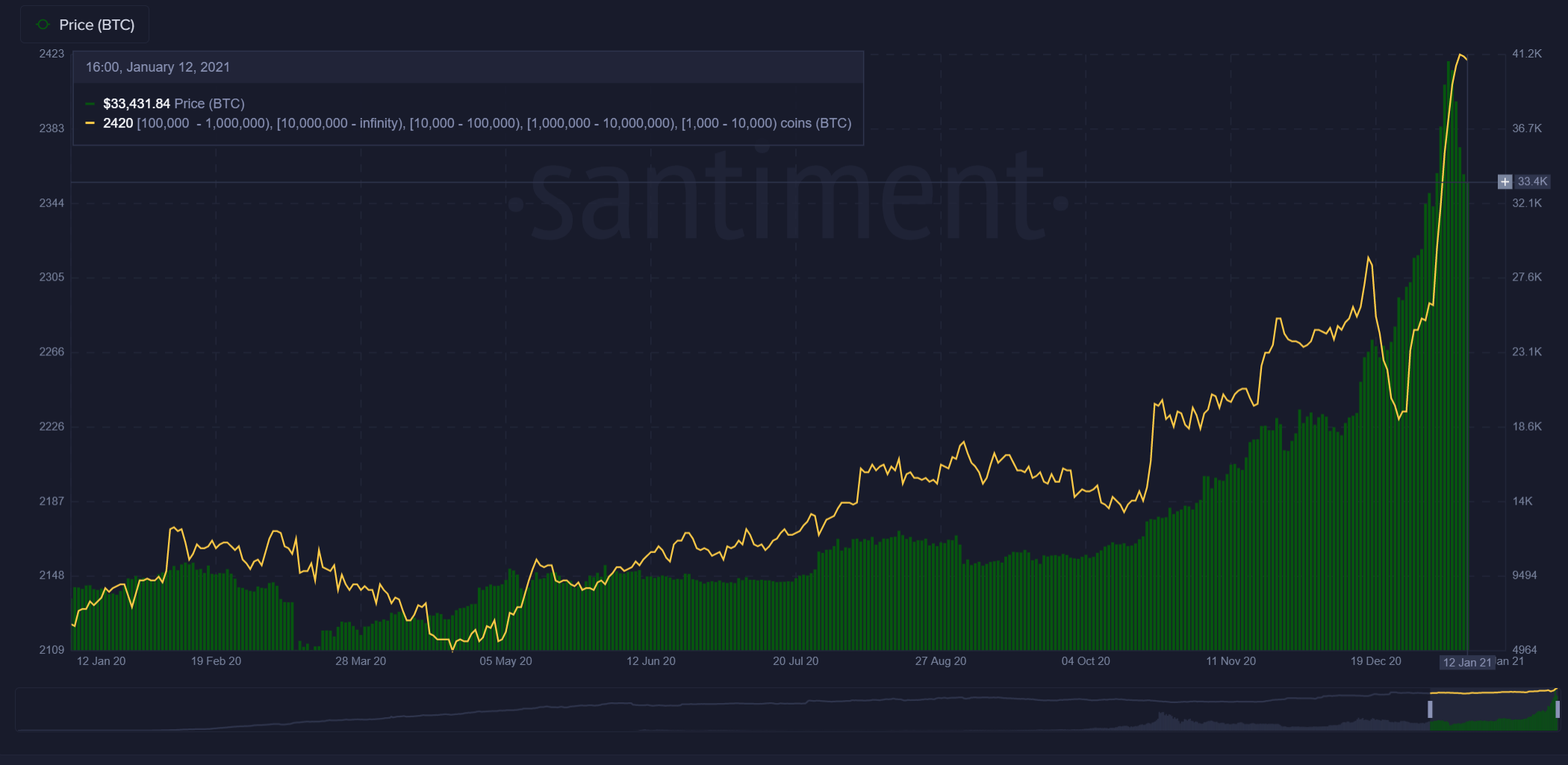 BTC Holders Distribution
In addition to whales entering the network, the number of Bitcoin inside exchanges continues to decrease which indicates that the last sell-off was only due to panic and small investors. Overall, it seems that large holders are accumulating Bitcoin and withdrawing it from exchanges to hold for the long-term.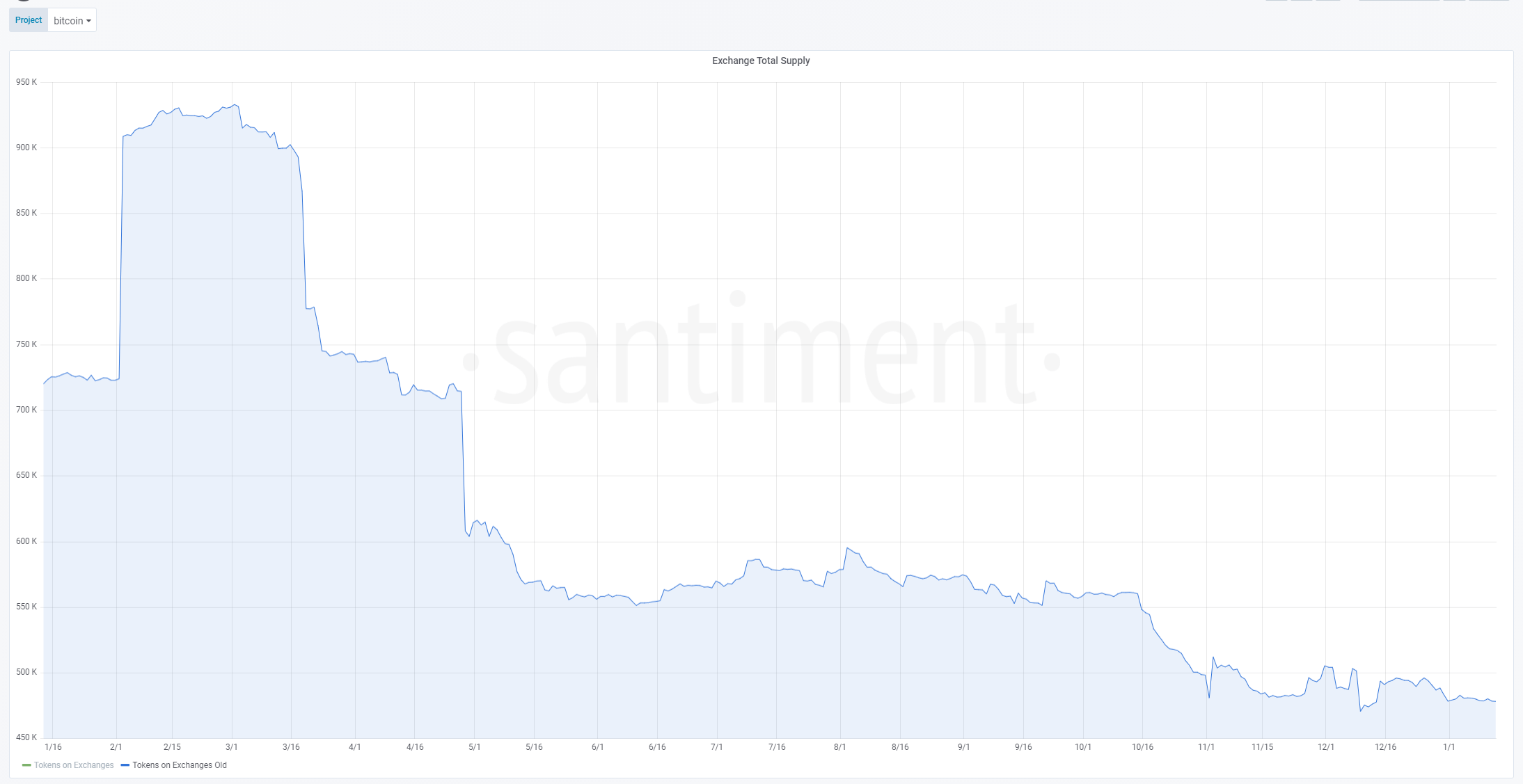 BTC Supply on Exchanges
On January 14, Andrew Yang the former democratic US presidential candidate announced that he will run for New York City mayor. Yang has been a big defender of Bitcoin and cryptocurrencies in general and plans to introduce a regulatory framework for them.
The interest in Bitcoin from institutional investors and normal traders has been extreme in the past week. So extreme that eToro could be forced to limit buy orders of Bitcoin due to the demand. The official statement by eToro said:
The unprecedented demand for crypto, coupled with limited liquidity, presents challenges to our ability to support BUY orders over the weekend
The Financial Times also reported a spike in Bitcoin securities trading stating that investors have rushed into Bitcoin-linked securities.
BTCetc Bitcoin Exchange Traded Crypto (BTCE) has recorded average daily trading amounting to €57m in the first 11 days of January, according to data from Deutsche Börse.
On January 14, Joe Biden announced a major $1.9 trillion relief plan which is generally considered bullish for the cryptocurrency market as it weakens the dollar. According to the plan, around $1,400 would be sent to eligible recipients in addition to the $600 payments already approved for a total of $2,000.
What about the bearish signs?
Despite the positive metrics behind Bitcoin's run, the flagship cryptocurrency remains extremely volatile. According to Goldman Sachs, Bitcoin needs more institutional money to flow in to mature as an asset and avoid extreme volatility. Jeff Currie, Global Head of Commodities Research at Goldman Sachs says Bitcoin has shown signs of maturity already but funds from institutional investment sectors are still low in comparison.
Not everyone believes Bitcoin is a great investment option. The European Central Bank (ECB) President Christine Lagarde called Bitcoin a speculative asset and that regulation will be needed. Nonetheless, she also stated that the digital euro could happen within five years from now.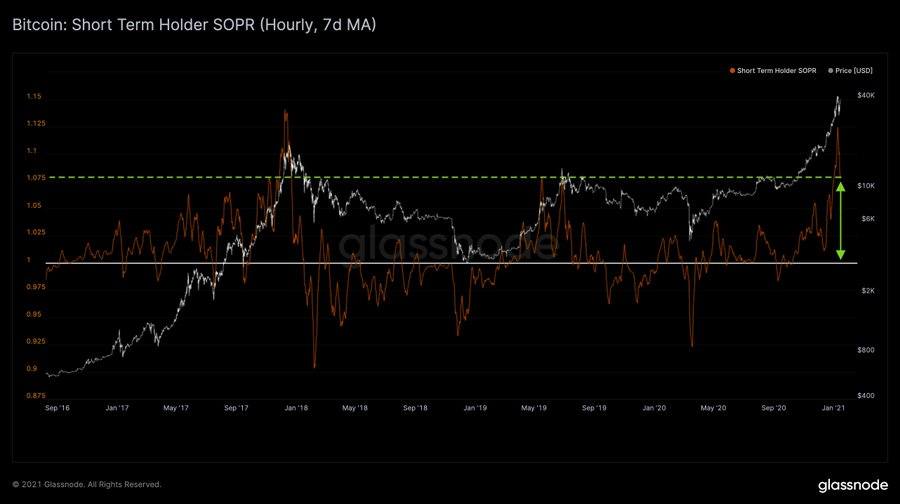 According to Glassnode and its Spent Output Profit Ration (SOPR) metric, Bitcoin price could still be looking at another potential healthy correction. If you want to fully understand how this metric works, check out our recent article explaining it.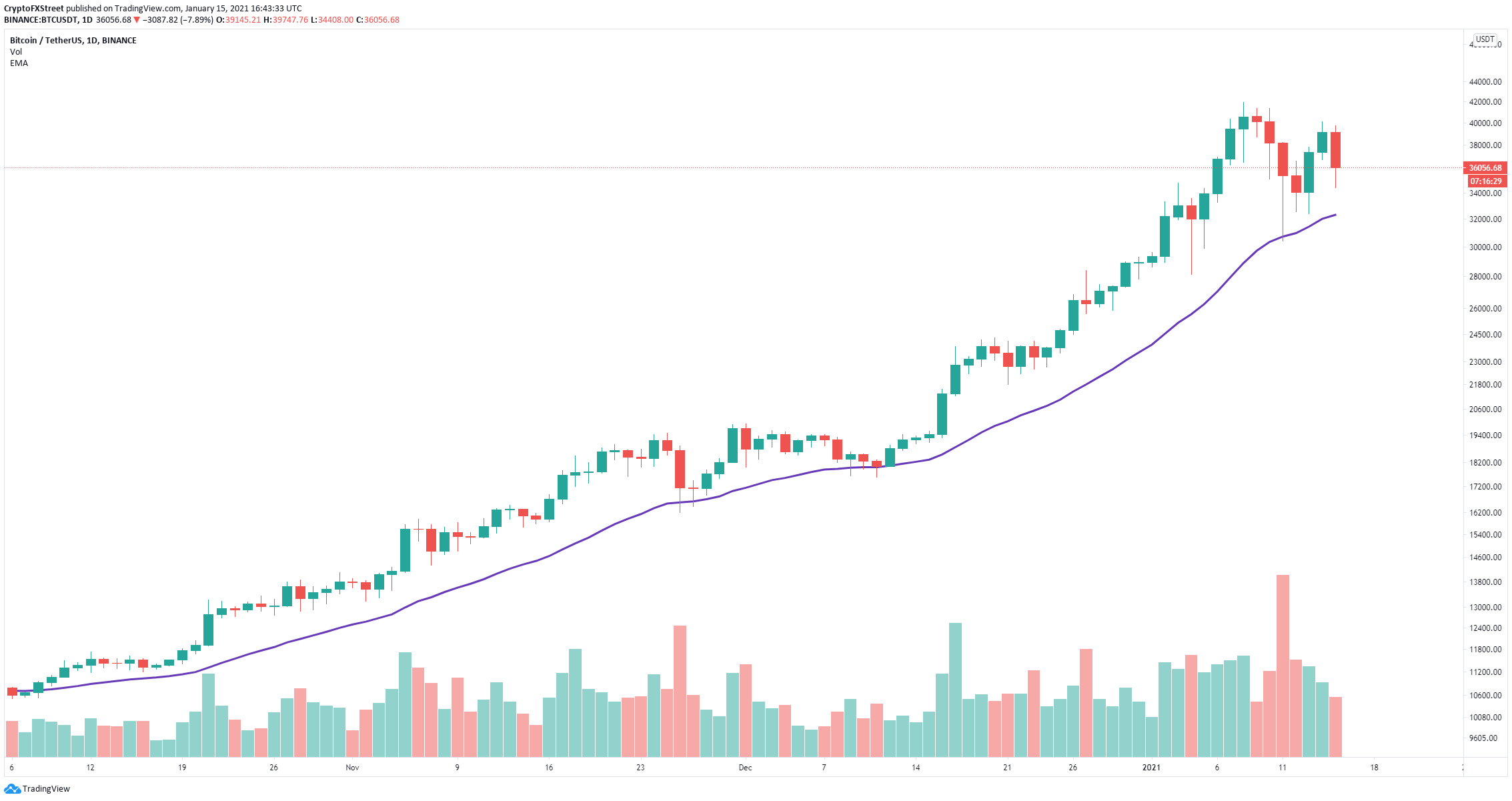 BTC/USD daily chart
So far, throughout the entire bull rally to $40,000, Bitcoin price has managed to stay above the 26-EMA, defending it on several occasions. This level has served as a great 'dip-buying' opportunity for bulls. However, losing this crucial support point would quickly shift the odds in favor of the bears which will look to establish a higher low on the weekly chart.
Get the 5 most predictable currency pairs