After having dropped to just over the $300 level, the BNB price made a recovery and touched the $319 mark on 13 July. It has since fallen back slightly of late but is still well over that level at the $312 mark although the mood is slightly bearish.
The latest jurisdiction to issue a warning on Binance has been Malta. The formerly described 'Blockchain Island', through the Malta Financial Services Authority stated that Binance does not have a license to carry out Virtual Financial Assets trading in the country. It also warned prospective customers about the exchange.
Although Binance had a very small presence in Malta, such FUD is always slightly detrimental to the BNB price. Still, there does not appear to be any sort of collapse due to these recent statements and buyers are still there. Negative crypto market sentiment is also a downer. If you haven't yet bought some BNB, you could try this How To Buy Cryptocurrency Guide to get started.
BNB price Short Term Forecast: Selling Pressure or Buyers In?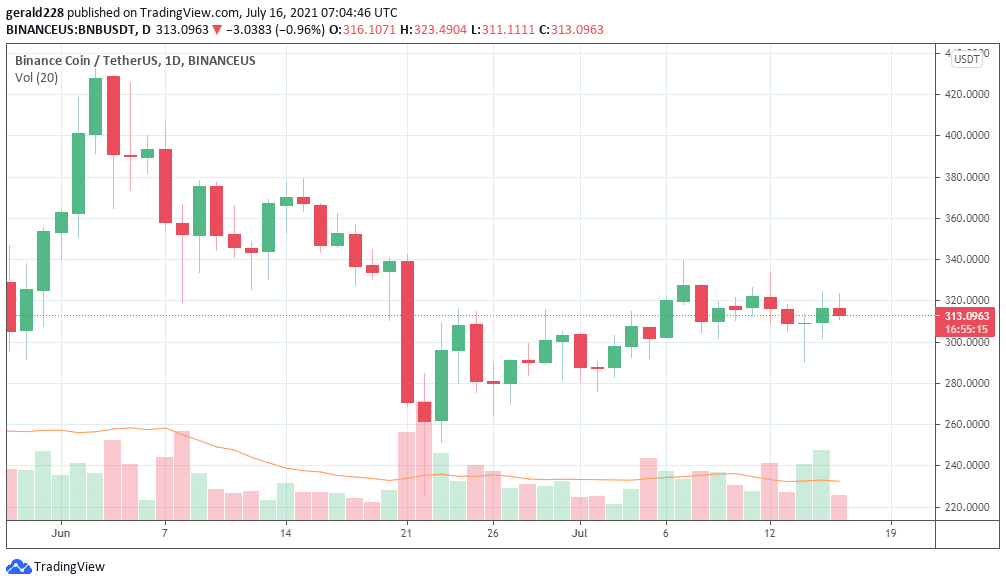 The BNB price is currently trading at over 50% down from its all time high of $665 reached in early May. There have been sporadic attempts to attack the $400 level over the past few weeks but these have usually been accompanied by considerable resistance. 21 June was one of the worst slumps for BNB with the coin dropping from $338 to the $272 mark.
Short term, it is important for BNB to keep above the $310 level and accumulate strength for a further charge forward. The next level of resistance would be the $330 mark where another charge to the $350 level could happen. After that, the $375 mark would be the next logical resistance point. This would signify a 20% rise from the current price.
A bearish thesis would invalidate this prediction however. If the BNB price drops below the psychologically significant $300 level, then it could drop all the way down to the June 21 low of $22. Further selling pressure could exacerbate this fall and the price would continue dropping to the $250 mark where there should be considerable support. If you haven't yet bought any cryptocurrency, have a look at the Best Cryptocurrency Brokers who know the score.
Binance Coin Long Term Prediction: Moving Forward But Mindful Of Pitfalls
The current situation with the BNB price is similar to most other top cryptos, moving sideways. There seems to be strong support at the $300 level but BNB would prove bullish if it overcame the $350 and $375 levels. End of year predictions have the BNB price at above the $600 level but there needs to be a considerable change in market sentiment for this to happen.
Looking to buy or trade [coin name here] now? Invest at eToro!
Capital at risk