Forex markets are looking for the next major trends in each of the most commonly traded currencies, and recent clues have shed light on some of the ways major central banks are likely to proceed in coming months.  In the US, the most recent jobs data showed an increase that is well above the historical averages.  As long as this type of activity is apparent, the majority of the forex market is likely to position for new interest rate increases by the US Federal Reserve.  Higher interest rates tend to mean higher currency values, so there is strong potential here for this to create new trend activity in the forex market as a whole.
Potential for Higher Rates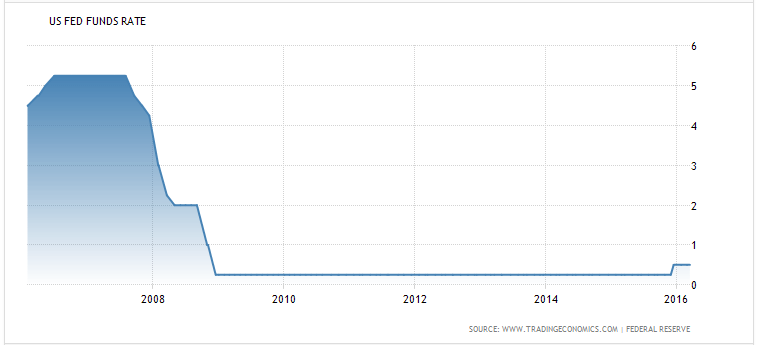 In this chart, we can see that the US fed funds rate is still holding at historic lows.  Recently, however, this outlook has started to change with the US economy strengthening in several key areas.  In most cases, the Fed is looking at the labor market for clues indicating the underlying strength or weakness in the US economy — and these numbers support the broader trends for higher rates going forward.
US Dollar Trends
As long as we continue to see strength in these key areas, we will likely see a growing number of bullish carry trade positioning for the USD.  Higher interest rates mean higher carry values and since we are currently looking at a climate where most national economies are dealing with low interest rate levels, this would be a scenario that benefits the US Dollar.  This will primarily impact forex pairs like the EUR/USD, GBP/USD, and the USD/JPY, so traders should continue to monitor these pairs for any indication that we are seeing a significant change in the underlying trends.  With the US unemployment rate holding below 5%, there is still scope for a higher rate outlook as the Federal Reserve looks to redefine its monetary policy agenda.  
At the moment, it appears as though activity in the US Dollar could be a driving and dictating force in the trends that are seen in many of the peripheral currencies.  For these reasons it will be important to continue watching for commentaries released by the Federal Reserve in making changes to its monetary policy.  Interesting opportunities are likely to arise in the forex markets over the next few months, and it always pays to be prepared for these events before they occur.
By DailyForex