Here's what you need to know on
Markets:
BTC/USD pair is exchanging hands at $9,765 after a bearish Asian session on Monday. There was a struggle over the weekend to break that barrier at $10,000. However, increased volatility levels and the demoralized bulls saw Bitcoin price fall to levels under $9,600. An intraday low of $9,591 has been hit on the day followed by a minor recovery falling short of the resistance at $9,800.
The ETH/USD pair closed the week above $275, which was a positive gesture as many analysts had predicted a smooth sail towards $300. Unfortunately, the ride above $280 remained a pipe dream as Ethereum price plunged to $266.01 (intraday low). At the time of writing, Ethereum is trading at $268 after losing 2.56% of its value on the day.
XRP/USD, on the other hand, is teetering 3.61% lower on Monday. Attempts to advance towards $0.30 failed short of $0.28. An intraday high of $0.2851 marked the end of the journey north. Meanwhile, support at $0.27 remains intact with sideways trading in the range between $0.27 and $0.28 likely to take over.
Among the top 100 cryptocurrencies the worst hit coins include Ethereum Classic $9.41 (-4.07), EOS $4.23 (3.84%), NEO $13.86 (-3.57%), Litecoin 76.66 (3.94%), Bitcoin Cash $390.05 (3.26%), Monero $83.02 (-2.89%) and Bitcoin Gold $10.26 (-2.2%).
Chart of the day:
BTC/USD daily chart

Market
$40 million Bitcoin longs liquidated on BitMEX
As Bitcoin price dived further below $10,000, longs traders on BitMEX, a leading BTC margin trading platform was in action. Data my Datamish.co, a platform that tracks BTC margin trading on BitMEX indicates that over $40 million BTC longs had been liquidated in the last six hours compared to the $4290 shorts liquidated on the same exchange.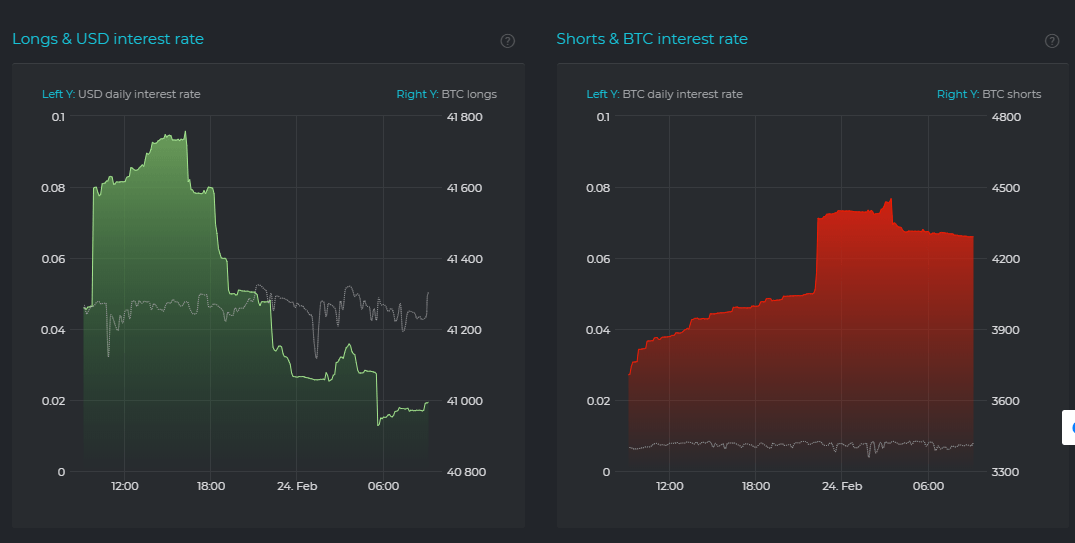 Gold prices hit seven-year high as Coronavirus fears mount
Gold is exploding in gains while Bitcoin remains relatively bullish amid fears that the Coronavirus may become a global pandemic. The virus, otherwise known as COVID-19 started in China, however, its effects and dangers are fast spreading to other countries. Experts and analysts believe that Bitcoin, gold, and silver are in the green due to the spread of the virus. For instance, top analyst Mati Greenspan said in a tweet towards the end of last week:
Took a short position on the Nasdaq and long Gold before the weekend.
Small money big leverage. Guessing with the spread of Coronavirus and #FeelTheBern gaining ground, those positions will open in the money tonight.
The gold price has hit a seven-year high logged in 2013 at $1,681/ounce. Silver has not been left behind as it has short up significantly. Greenspan later said that the position closed in profit following the breakout on Monday.
The death toll due to the virus hit 2,442 by Sunday while 76,936 infections had been reported in China and around the world. Italy is dealing with 144 cases, US 35 and Iran 43 respectively.
Industry
Ripple seems to have recognized that the XRP Ledger is missing out on use cases related to the ability to support complex smart contracts. In line with this, Xpring, Ripple's investment and incubation arm has said that it plans on building a financial bridge between XRP and Ethereum (ETH). The bridge will ensure that value is transferred easily between the two platforms. Ripple claims that XRP has the highest liquidity among other cryptos while Ethereum excels in smart contracts support.
We think the XRP to ETH and ERC-20 tokens bridge is important since XRP is one of the most liquid crypto currencies in the world, but doesn't have a compute layer to support complex smart contracts for the growing Decentralized Finance (DeFi) market on Ethereum.
Regulation
The recent G-20 summit that saw 20 Finance Ministers and Central Bank Governors converge in Riyadh urged that nations move on with the implementation of FATF standards on cryptocurrencies and virtual assets. The group reaffirms its stance in October 2019 regarding the evaluation of 'global stablecoins' and other related risks before they are allowed to hit the market.
We look forward to the consultation report from the FSB on addressing regulatory issues of so-called 'global stablecoins' – April 2020, a report from the IMF on the macroeconomic implications including monetary sovereignty in its member countries – July 2020, and a report from the FATF on the risks to AML and CFT– July 2020.
Quote of the day
FSB members recognise the speed of innovation in the area of digital payments, including so-called 'stablecoins'. We are resolved to quicken the pace of developing the necessary regulatory and supervisory responses to these new instruments.
Financial Stability Board (FSB) Chair Randal Quarles