Here's what you need to know on Tuesday
Markets
BTC/USD is currently trading at $9,930 (+3.00%), the bulls were able to briefly push back above $10,000, but sellers slow down momentum again for now.
ETH/USD is currently trading at $278 (+7.20%), Ethereum was an outperformer in the session today, as the price looks to break down resistance from $270-90 price range.
XRP/USD is currently trading at $0.2950 (+4.20%), regathers some upside, but needs to break back above $0.3000 to remove near-term vulnerabilities.
Among the 100 most important cryptocurrencies, the best of the day are MANA $0.066289 (+21.55%), SC $0.003227 (+16.49%) ENJ $0.0135389 (+14.75%) The day's losers are BCN WAXP $0.0.051979 (-12.42%), HBAR $0.0.049355 (-3.30%), CHZ $0.013790 (-1.22%).
Chart of the day: BTC/USD 4-hour chart (Price action breaks out of a descending channel structure)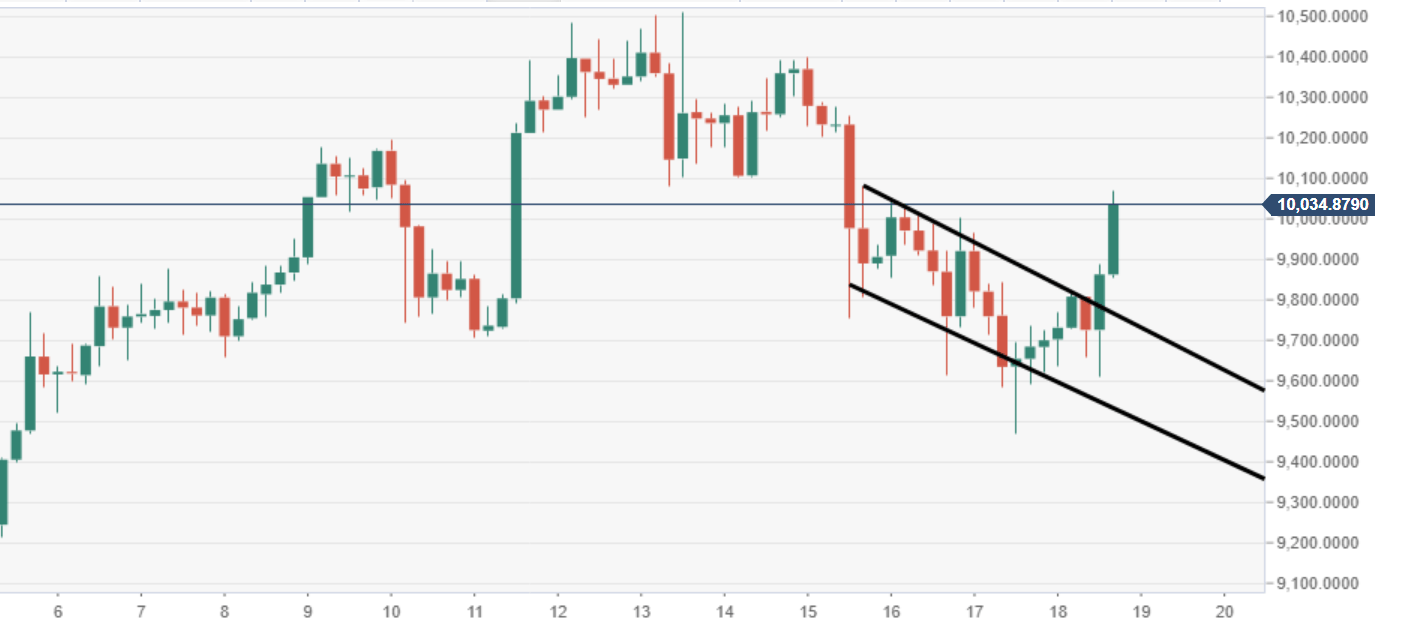 Market
Ripple's CEO Richard Garlinghouse spoke in an interview with CNBC and said: "XRP is extremely efficient from a technical point of view in terms of speed, in terms of scalability, in terms of cost. I'm a Bitcoin holder, but it's not gonna solve a payments problem when the transaction time and transaction cost is almost 1000x what it is for XRP."
Regulation
The U.S. Office of the Director of National Intelligence is seeking researchers to determine how cryptocurrency could undermine the dollar as the world's reserve currency.
The bank of Russia (CBR) has successfully completed the pilot of a blockchain and distributed ledger technology (DLT) platform for the release and turnover of digital rights. It now allow digitizing (tokenize) goods, services, securities and other valuable assets. Any company or institution will be able to create cryptocurrencies on the site.
Presidential candidate Michael Bloomberg proposed creating a regulatory framework for cryptocurrencies in a new financial regulation plan.
Industry
Samsung has introduced a processor in the Galaxy S20 series to store the first cryptocurrency and tokens of the ERC-20 standard. Samsung's Galaxy S20 smartphones have a storage feature for Bitcoin, Ethereum and other digital currencies that support the ERC20 protocol.
A recent Bloomberg report suggests that Binance now wants to take on the tech giants in the likes of Google and Amazon, with regards to crypto cloud services. The report added that the Malta based firm has made its first foray into business services by lending its technology and liquidity to clients wanting to start their own exchanges.
Quote of the day
The Golden Cross is probably the strongest bullish signal you can get on a Technical Analysis.

The last time it played out for Bitcoin, it resulted in a 213% price rise. Now it's happening again. The target would be $28,000.
@crypto_rand
Get the 5 most predictable currency pairs