DOGE/USD Slips Back to $0.1780 After Testing $0.2050 Resistance

Elon Musk Triggers Dogecoin price just via one Tweet.

Three Black Crows Driving DOGE/USD lower to $0.1779.  
The DOGE/USD closed at $0.181590 after placing a high of $0.195830 and a low of $0.180510. Dogecoin managed to turn green on Saturday and recover some of its previous 7-day declines, but it turned red again on Sunday.
The latest reversal in Dogecoin was said to be driven by a tweet from billionaire influencer Elon Musk. The Tesla CEO changed his Twitter profile picture, which says Doge Father, along with his picture. This picture showed that Musk still supports the meme-crypto as some feared that he might have forgotten entirely about Dogecoin.
If you are interested in trading DOGE/USD with  forex robots, check out our guide.
This single action from Musk moved the price of meme-coin to above $0.203 from $0.18 overnight. However, the next day, the cryptocurrency retraced and returned to the same level of $0.18. Elon Musk has played an essential role in appreciating the market value of meme-crypto. Initially, his tweets used to send the Dogecoin soaring; however, lately, his influence seems to be fading away.
Elon Musk Tweet Trigger Dogecoin Demand
In February, Elon Musk tweeted that he bought some Dogecoin for his son Lil X to be a toddler holder. In response to this, someone asked that how was his son liking Dogecoin. In response to this, Musk tweeted that "Lil X was holding his Doge like a champ. Literally never said the word sell even once." After this tweet, Dogecoin temporarily popped up to $0.203 but resumed the sell-off after that.
Stronger Dollar Push DOGE/USD Lower to $0.1779  
The U.S. dollar was high on board as it reached 92.76 level on the back of better-than-expected macroeconomic data about the Retail Sales and Core Retail Sales in June. The soaring prices of the U.S. dollar added further pressure on DOGE/USD as both share a negative correlation and the cryptocurrency continued declining over the weekend.
Dogecoin Price Forecast: Can $0.1684 Extends Support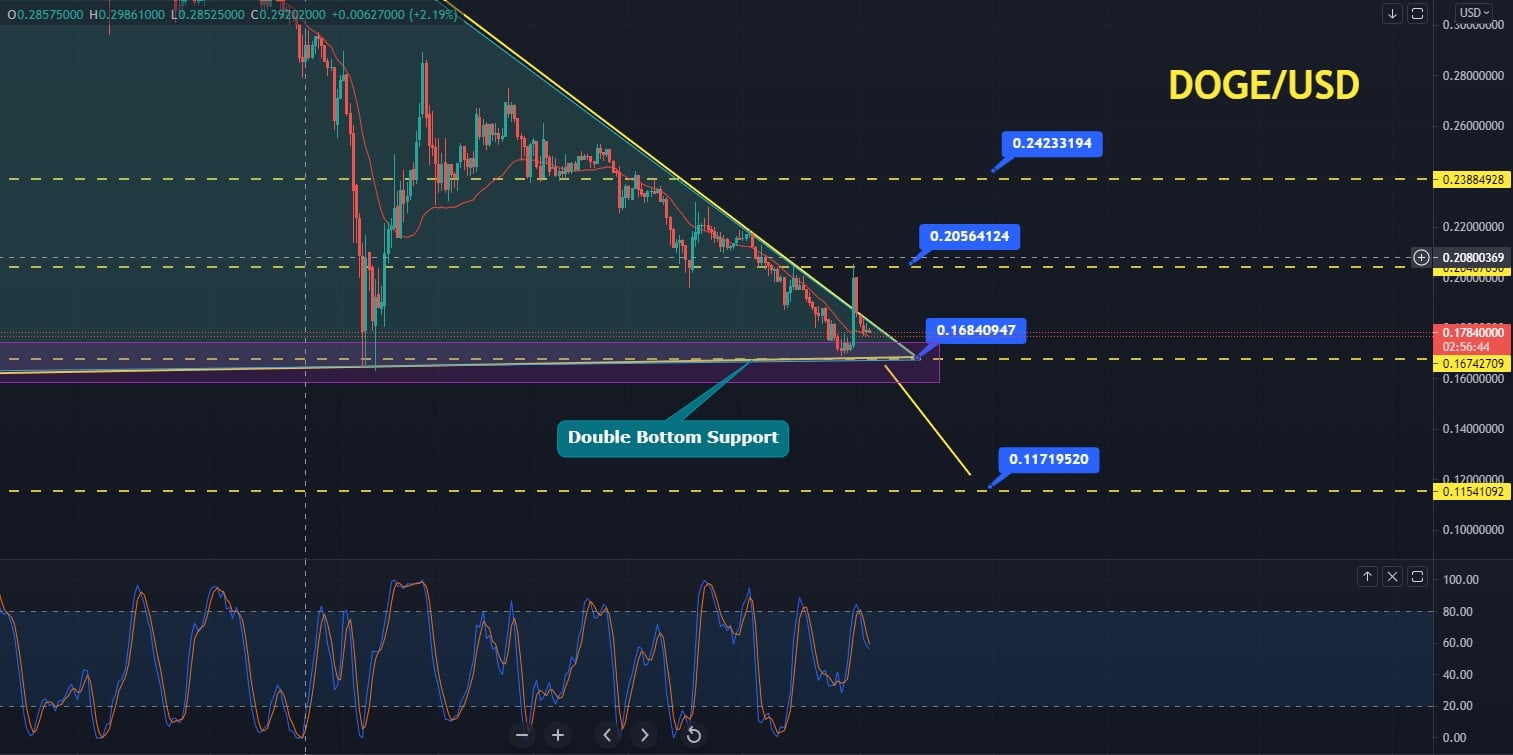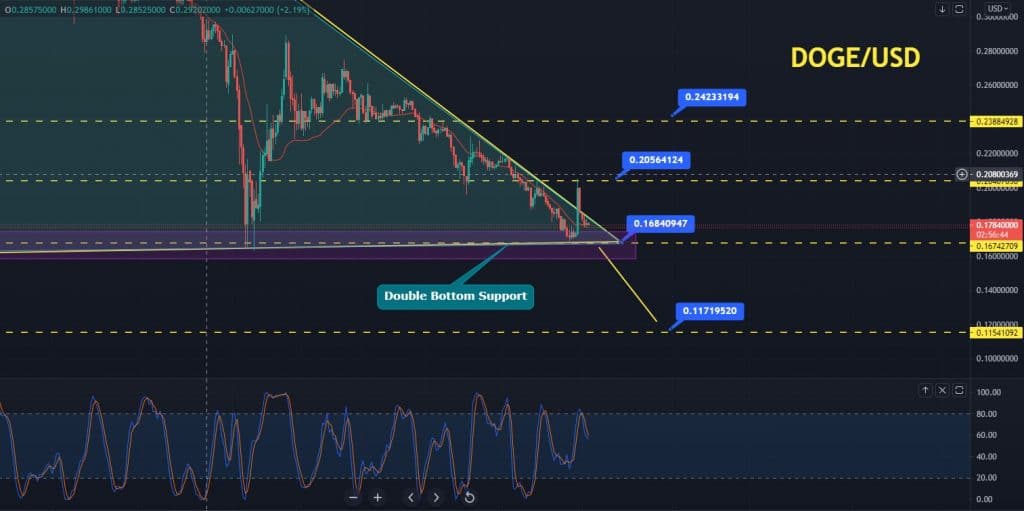 Support Resistance
0.176124 0.191444
0.170657 0.202197
0.160804 0.206764
Pivot point: 0.18597
Dogecoin Price Forecast – Technical Outlook: Focus on $0.1684 Support
Dogecoin price forecast is trading with a solid bearish bias at the 0.1776 mark. On the 4-hour timeframe, the DOGE/USD has closed the "Three Black Crows" candlestick pattern that's suggesting strong selling bias among traders.  
The DOGE/USD pair can gain Support at 0.1684, which's extended by a double bottom pattern on the 4-hour timeframe. The 50 moving average (M.A.) is also supporting a bearish bias in Dogecoin at 0.1780 levels. But, the Stochastic indicator, on the other hand, doesn't seem to support selling. It's still holding at 55.89 after testing the overbought zone at 80.  
Dogecoin tried to violate the downward trendline at the 0.1880 level but later slipped back into the same zone. It may find Support at 0.1684 and 0.1440 levels while the resistance stays at 0.2056 and 0.2423.    
The DOGE/USD price forecast remains bearish today. Therefore, the  forex trading  participants may look for selling below 0.18597 level to target 0.1684 level. All the best.  
Looking to buy or trade crypto now? Invest at eToro!
Capital at risk