Dogecoin price trades in tight range between $0.295 and $0.31
Not much price movement at present, DOGE seems to be waiting for a move either way
Crypto market slowly rising but pullbacks remain
The Dogecoin price is currently in a state of flux as it trades in a rather tight range that varies between the $0.295 and $0.31 levels. It is probably one of the Top 10 cryptos which has moved the least over the past seven days although it is still around 80% up from its July 20 swing low of $0.168.
DOGE reached a bi monthly high of $0.33 on 16 August although it has been in decline since then. It is currently around 10% down from that high but support seems to be quite strong at the $0.28 levels unless a sell off ensues. Cryptocurrency regulation talk does not seem to have affected the Dogecoin price too much with Fed Chair Jerome Powell's interview not moving the radar too much as far as DOGE is concerned.
If you haven't yet bought some DOGE then have a look at this How To Buy Dogecoin Beginner's Guide.
Short Term Prediction For Dogecoin Price: More Sideways Movement Expected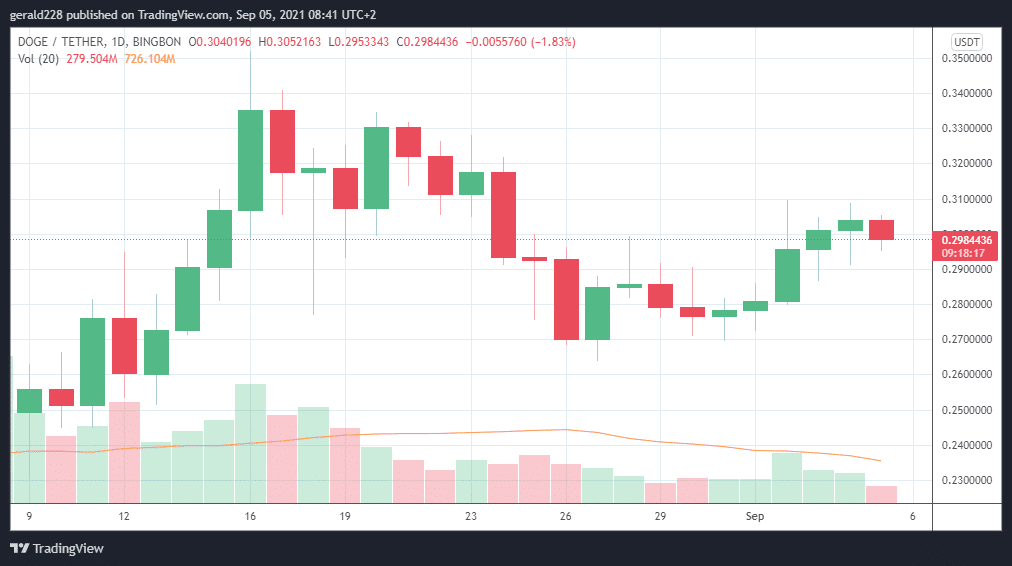 It is expected that the Dogecoin price will continue moving sideways at least for the short term. Barring another big move in the crypto market, DOGE seems to be settling in this tight trading range with very little movement either way.
If a bullish thesis were to come into play, then the Dogecoin price would rise to the $0.33 level or the August 16 high. This represents a 10% rise from the current price level and resistance would probably be encountered. If that price level is broken then DOGE would probably move all the way up to $0.40 mark as buying pressure increases.
If a bearish thesis comes into play, then the Dogecoin price would most likely drop to the $0.27 level where he first level of support will be encountered. If that breaks and a sell off ensues, DOGE would most probably descend to the $0.23 level where more support is well placed.
If you haven't yet bought some cryptocurrency or started trading, then have a look at these Top Cryptocurrency Brokers.
Long Term Prediction For DOGE: Bullish Long Term With ATH Expected Again By End Of Year
The Dogecoin price remains bullish on a long-term basis although it will take some time to reach the All Time High of $0.67 registered in April. At present, DOGE is still around 80% below that level although it has continued to recover well from the July lows of around $0.16-$0.17.
The dog themed meme cryptocurrency should continue to appreciate as the crypto market increases. Normal pullbacks may be expected along the way although the general trend remains bullish.
Where to Buy Dogecoin
If you want to purchase Dogecoin, you can do so on the following exchanges:
• eToro
eToro is one of the trusted exchange platforms in the crypto space. eToro supports copy trading, which allows new traders to learn from market experts. eToro also charges low trading fees and commissions.
• Binance
The other platform where you can buy Dogecoin is Binance. Binance is one of the largest exchange platforms. It supports a wide range of cryptocurrencies and trading pairs. It also offers user-friendly features.
Looking to buy or trade Dogecoin now? Invest at eToro!
Capital at risk