The Ethereum price seems to be consolidating at around the $1800-$1900 in preparation for another possible rise to the $2400 level. However, there are several resistance levels which need to be met before this occurs and selling pressure is still quite strong.
After dipping below the $2000 level on 14 July, it seems that bearish sentiment is continuing to drag down the Ethereum price. It appears that a move is going to be made either way but it does seem that there is further bleeding to be suffered before a move upwards is made. If you haven't yet bought Ethereum then this How To Buy Cryptocurrency Beginners Guide would be a good place to start.
Short Term Price Forecast For Ethereum: Down To $1700 Before A Rebound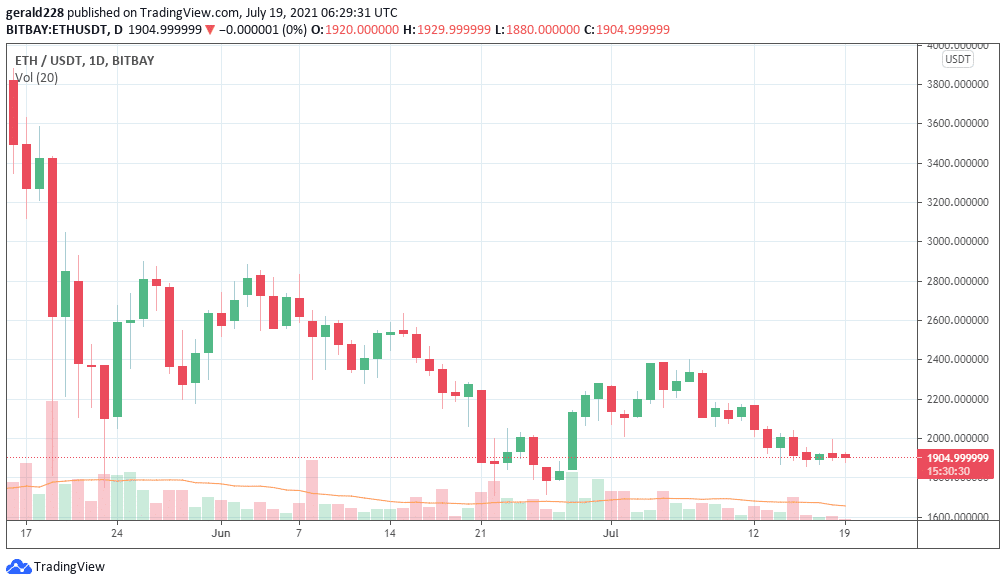 Ethereum is currently stuck in between the $1850 to $1950 trading range with this getting narrower as time goes by. It closed at the $1908 level yesterday but appears to be bearish this morning so further falls should be expected, albeit small ones at this point.
For the time being, Ethereum is to continue to move sideways but there could also be a bullish thesis which changes the pattern completely. If a huge spike in buying pressure occurs, the Ethereum price could even soar to the $2975 mark which would mean a massive 38% jump from current prices.
However, this bullish thesis would be invalidated if the bears take over. Actually, this seems to be the more likely scenario at this point as the support line of $1930 has already been breached. If the descent continues, then ETH is likely to fall to the $1800 level pretty fast where it should find strong support.
Selling pressure may continue to increase here and the Ethereum price may drop to the demand zone. This extends from $1600 to $1740. If ETH loses this support level, a decline of 35% would then be on the cards with the price dropping to the sub $1300 level. If you haven't yet bought some Ethereum, you should check out these Top Cryptocurrency Brokers.
Long Term Price Forecast For ETH: Further bleeding Before Recovery
With Ethereum currently stuck in the mire of between $1850 and $1950, the situation still seems very unstable. There appears to be substantial selling pressure at the moment making it difficult for the Ethereum price to post a meaningful recovery, at least in the short term.
Much depends on the current crypto market sentiment which continues to be extremely negative. Talk of crackdowns and other FUD has had an extremely bad effect on the market in the past few weeks with Ethereum no exception. Although long term predictions are still bullish, it now seems unlikely that the Ethereum price will regain the $3000 mark anytime soon.
Looking to buy or trade [coin name here] now? Invest at eToro!
Capital at risk