The EUR/GBP currency pair is currently trading in a tight consolidation range above the 0.8000 psychological level and previous support trend line, which has recently acted as resistance.  This pair formed an inside day yesterday and is once again trading within the prior days range, which may see another inside day if price closes around current levels.
Guest post by Nick Simpson of  www.forex-fx-4x.com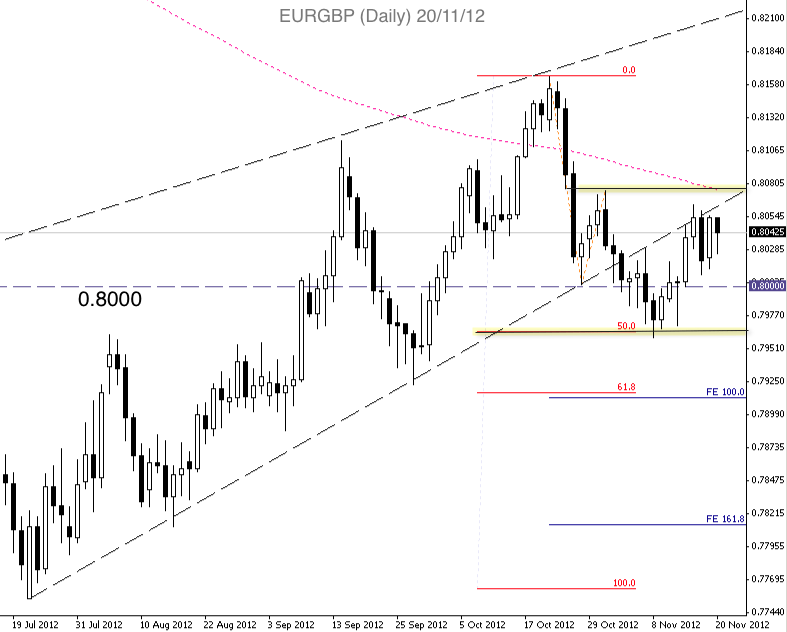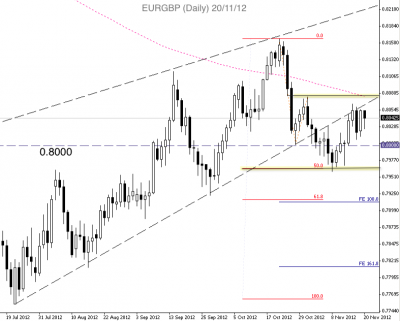 This comes as the EUR/USD is trading around the key 1.2800 area previous support lows and 200 period SMA level.  This area has seen resistance over recent trading sessions as  net gains have been limited just above 1.2800.  Cable, one the other hand is trading around the GBP/USD 1.5913 price pivot level which has likewise capped the upside.
If the current EUR/GBP resistance holds, and the pair breaks lower, the 0.8000 handle is an area which has been supportive before and has potential to provide an element of support again.
Further to this is the 50% retrace area, highlighted on the attached chart, which held as support on the 8th November.
To the upside the 31/10/12 daily high is currently aligned with the 200 period SMA.
Above this point, the 0.8100 area was resistance during September and October.  We will be monitoring these levels in the near term on any EUR/GBP upside.