EUR/USD  continues the downwards slide and is now consolidating under another support level. A week has passed since Spain opened the door for asking for help – a condition for ECB help. However, Spain is not in a hurry to actually take this extra step, and in the meantime, more voices are heard in Germany against ECB intervention. On this background, Spanish yields rise and the euro slides. Positive US figures add to the fall of the pair towards the weekend.
Here's an update about technical lines, fundamental indicators and sentiment regarding EUR/USD.
EUR/USD Technical
Asian session: Euro/dollar  managed to trade above the 1.2288 line before sliding lower in the European session..
Current range: 1.22 to 1.2288.
Further levels in both directions: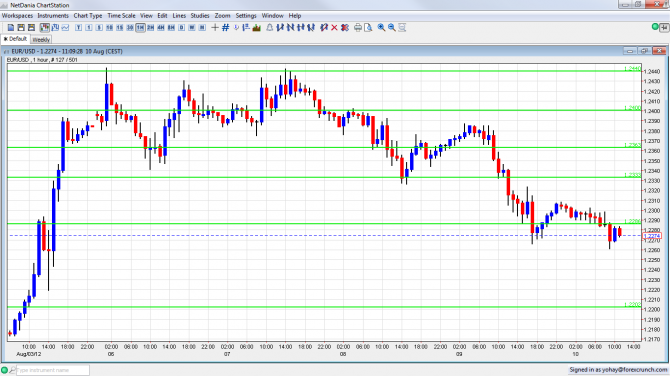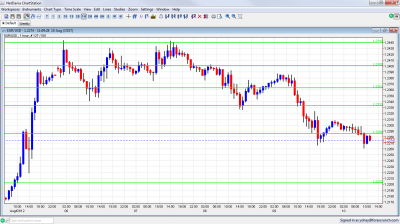 Below: 2288, 1.22, 1.2144, 1.2043, 1.20, 1.1876 and 1.17.
Above: 1.288, 1.2330, 1.2360, 1.24, 1.2440, 1.2520, 1.2623, 1.2670, 1.2743 and 1.2814.
1.2330  is strong resistance.
The break under 1.228 is still not confirmed. If it will be, the pair has a lot of room to fall.
Euro/Dollar lower  as time passes by – click on the graph to enlarge.
EUR/USD Fundamentals
6:00  German Final CPI. Exp. +0.4%. Actual +0.4%.
6:45  French Industrial Production. Exp. +0.4%. Actual 0%.
12:30 US Import Prices. Exp. +0.1%.
18:00 US  Federal Budget Balance. Exp. -$103 billion
EUR/USD Sentiment