Another attempt to break higher failed yesterday, and the long term uptrend support is getting closer. Will it break on this busy day? Here's a quick update on fundamentals, technicals and community trends.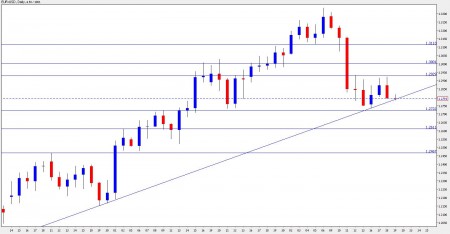 EUR/USD approaching long term support line – click to enlarge
EUR/USD Technicals
Asian session:  Busy session – EUR/USD broke down under yesterday's range from to the vicinity of .28.
Current Range is narrower: 1.2787 to 1.2930. Significant support at 1.2787. Explanation below.
Further levels: Below, 1.2722, 1.2611, and 1.2460.  Above  1.30, 1.3114 and 1.3267.
Medium term: On August 10th, EUR/USD lost a  steep uptrend channel that began on June 29th. It is now consolidating.
Long term: Less steep uptrend channel began on June 7th, from the year-to-date low of 1.1876 and continues to support the pair. For today, it stands on 1.2787. A loss of this level will trigger a sharp fall.
EUR/USD Fundamentals
6:00 GMT: German PPI. Exp. 0.2%.
12:30 GMT: US Unemployment Claims. Exp. drop from 484K to 478K.
14:00 GMT: US Philly Fed Manufacturing Index. Exp. Rise from 5.1 to 7.1 points.
EUR/USD Sentiment
Market is in risk aversive mood. This means that bad US indicators are dollar positive.
Important US indicators will cause choppy trading around them.
Currensee Community: 55% are Short, 45% are long. This is a small shift towards longs- yesterday it was 57:43. These are 902 open positions in real accounts trading this pair at the moment.
Note – This is a new and still experimental section on Forex Crunch. It's still in development.
Want to see what other traders are doing in real accounts? Check out Currensee. It's free..