EUR/USD made a round trip and now returned to the area of the long term uptrend support. Will it close the week above the line? Or will it collapse? Here's a quick update on fundamentals, technicals and community trends.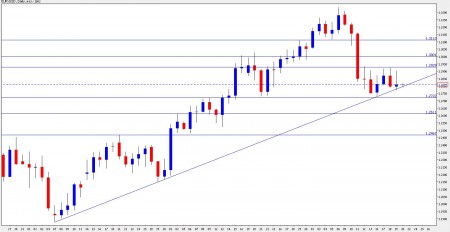 EUR/USD approaching long term support line – click to enlarge
EUR/USD Technicals
Asian session:  Busy session – EUR/USD traded in a very narrow range in a quiet Asian session, between 1.28 and 1.2840.
Current Range is between 1.2797 to 1.2930. Significant support at 1.2797. Explanation below.
Further levels: Below, 1.2722, 1.2611, and 1.2460.  Above  1.30, 1.3114 and 1.3267.
Medium term: On August 10th, EUR/USD lost a  steep uptrend channel that began on June 29th. It is now consolidating.
Long term: Less steep uptrend channel began on June 7th, from the year-to-date low of 1.1876 and continues to support the pair. For today, it stands on 1.2797. A loss of this level will trigger a sharp fall.
EUR/USD Fundamentals
Nothing on the agenda today.
EUR/USD Sentiment
Market is in risk aversive mood. This means that bad US indicators are dollar positive.
Yesterday's worrying US figures temporarily sent the dollar down, but these losses were erased quickly.
Moves towards the end of the trading week will cause high volatility, especially around the close of the European session.
Currensee Community: 58% are Short, 42% are long. This is a small shift towards shorts- yesterday it was 55:45. These are 905 open positions in real accounts trading this pair at the moment.
Note – This is a new and still experimental section on Forex Crunch. It's still in development.
Want to see what other traders are doing in real accounts? Check out Currensee. It's free..