EUR/USD managed to weather the fresh wave of bad US figures and to edge up towards the resistance line. Will it recover? Here's a quick update on technicals, fundamentals  and community trends.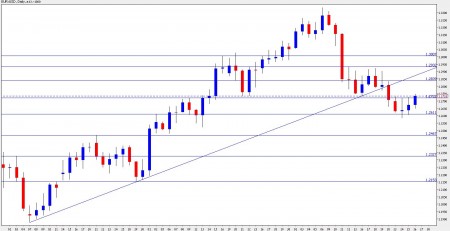 EUR/USD below long term support, attempting on 1.2722 – click to enlarge
EUR/USD Technicals
Asian session:  An active session saw EUR/USD edge upwards. This intensified when the European session began.
Current Range is between 1.2722 to 1.2830, if the break above 1.2722 is confirmed.
Further levels: Below, 1.2610, 1.2460, 1.2330 and 1.2150.  Above  1.2840, 1.2930, 1.30 and 1.3110.
Long term: On August 20th, EUR/USD lost less steep uptrend channel began on June 7th, from the year-to-date low of 1.1876. This turns into a resistance line now. For today, it stands on 1.2873. A push upwards will make this line important once again.
EUR/USD Fundamentals
6:00 GMT: German GfK  Consumer Climate  . Exp. 4.1, Actual 4.1, as expected.
8:00 GMT: M3 Money Supply. Exp. +0.4.
12:30 GMT: US Unemployment Claims. Exp. 488K.
14:00 GMT: US Mortgage Delinquencies.
EUR/USD Sentiment
Market is in risk aversive mood. This means that bad US indicators are dollar positive, although devastating figures that we've seen in recent days just shocked the markets.
The 1.2610 line is critical.
US unemployment claims will be closely watched, especially after last week's figure reached the alarming number of 500K.
Currensee Community: 55% are Short, 45% are long, with shortists having the upper hand. This is a small change from yesterday, when the ratio was 56:44. These are 926 open positions in real accounts trading this pair at the moment.
Note – This is a new and still experimental section on Forex Crunch. It's still in development.
Want to see what other traders are doing in real accounts? Check out Currensee. It's free..