EUR/USD lost ground steadily, fell below the uptrend channel and is approaching an important support. Will it collapse or bounce on this busy day? Here's a quick update on technicals, fundamentals  and community trends.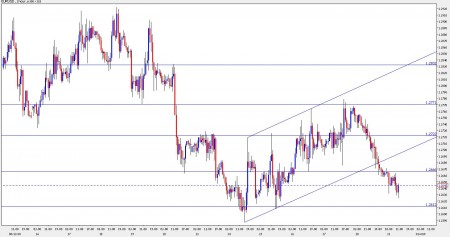 EUR/USD within new uptrend channel, that began last week. Click to enlarge.
EUR/USD Technicals
Asian session:  EUR/USD continued the gradual fall, going under the minor support line of 1.2665.
Current Range is between 1.2610 to 1.2665
Further levels: Below, 1.2610, 1.2460, 1.2330 and 1.2150.  Above  1.2722, 1.2840, 1.2930, 1.30 and 1.3110.
Uptrend channel lost: EUR/USD trades in an uptrend channel. Uptrend support began from the lows it reached on August 24th through a low on August 25th. Uptrend resistance began on a swing high on August 24th and was formed on August 26th. This is a notable line. EUR/USD lost it.
EUR/USD Fundamentals
All times are GMT. Most important events emphasized.
7:55: German Unemployment Change. Exp. -19K.
9:00: Unemployment Rate. Exp. 10%.
9:00: CPI Flash Estimate. Exp. 1.6%.
13:00: US S&P/CS Composite-20 HPI. Exp. +3.8%.
13:45: US Chicago PMI. Exp. 57.3.
14:00: US CB Consumer Confidence. Exp. 50.7.
18:00: US FOMC Meeting Minutes.
EUR/USD Sentiment
Market is in risk aversive mood. This means that bad US indicators are dollar positive, although devastating figures that we've seen in recent days just shocked the markets.
The 1.2610 line is critical on the downside.
This is a busy week, with the Non-Farm Payrolls at the end of it. Note the European unemployment rate that is a burden on the Euro, and the FOMC Meeting Minutes, which follow the groundbreaking decision to pump more money into the economy, the statement that enhanced the talks about a double dip recession.
Currensee Community: 55% are Short, 45% are long, with shortists having the upper hand. This is a slight change from yesterday's 57:43 ratio.These are 952 open positions in real accounts trading this pair at the moment.
Note – This is a new and still experimental section on Forex Crunch. It's still in development.
Want to see what other traders are doing in real accounts? Check out Currensee. It's free..