EUR/USD broke under the long-term uptrend support line that began at its year to date low on June 7th and extended up to now. A sharp fall sent the pair significantly lower. The move still needs to be confirmed. Update on the breakout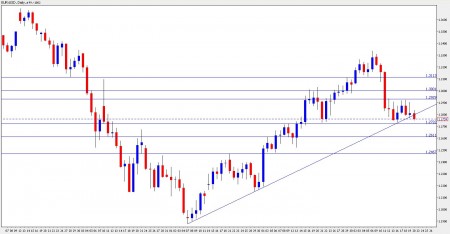 Update 9:55 GMT: EUR/USD is now at 1.2710.
Click on the graph to enlarge it.
Earlier in the week, EUR/USD made an attempt for the 1.2722 support line, that capped the pair at the beginning of July. This support line held strong, and the pair returned to trade in a range between 1.2780 and 1.2930, usually at narrower ranges.
The long term uptrend support starts on June 7th, when the pair reached a year-to-date low of 1.1876. It was then formed on three consecutive days – June 29th, June 30th and July 1st – as EUR/USD traded around 1.22.
It then climbed high above this line and approached it again only on this Monday, August 16th, when it reached 1.2734, just 5 pips above the uptrend support line, when James Chen explained how the pair respects this line.
As time passed by during the week, the uptrend support stood on 1.2797 on the daily chart. EUR/USD flirted with this line earlier, and then made a sharp move under it.
Euro/Dollar now stands on 1.2747. In order for this move to be confirmed, the pair needs to breach the flat support line of 1.2722. The move can be very violent.
On both sides of the Atlantic, no indicators are released. There are no other news. The market digests the global slowdown, and the technicals play an important role on today's move.
Want to see what other traders are doing in real accounts? Check out Currensee. It's free..