EUR/USD is falling and losing multiple support lines, as Middle East troubles and the Christchurch earthquake scare the markets. Where will it stop? Here's a quick update on technicals, fundamentals and community trends.
EUR/USD Technicals
Asian session:  Euro/Dollar began dropping and lost 1.3610. More lines were lost later.
Current range – 1.35 – 1.3570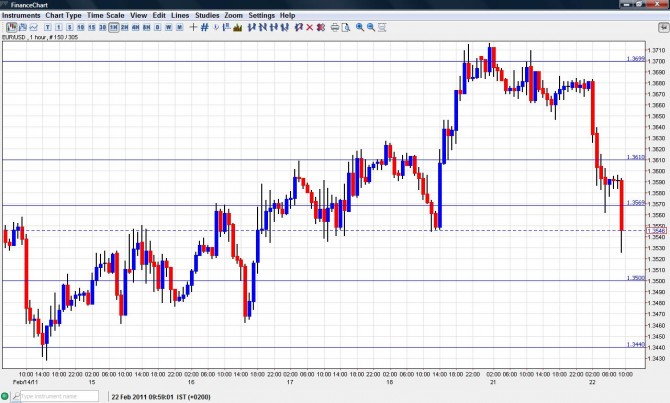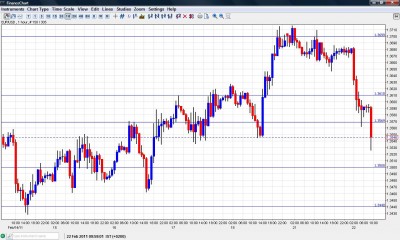 Further levels in both directions: Below 1.35, 1.3440, 1.3334, 1.3267, 1.3180, 1.3080, 1.2970.
Above:  1.3570, 1.3610, 1.37, 1.3760, 1.3830,  1.3950, 1.4030, 1.4160 and 1.4230.
1.3440 is important support below – just proved itself last week – we are not so far from this line anymore.
The  failure  to conquer the critical 1.3760 and more recently 1.37 is a bearish sign
Euro/Dollar below free falling- click on the graph to enlarge.
EUR/USD Fundamentals –
7:00 GfK German Consumer Climate. Exp. 5.8 points. Actual: 6 points.
14:00 European NBB Business Climate. Exp. 4.6 points.
14:00 S&P/CS Composite-20 HPI. Exp. -2.2%.
15:00 CB Consumer Confidence. Exp. 65.1 points.
15:00 Richmond Manufacturing Index. Exp. 18 points.
18:00 FOMC member Narayana Kocherlakota talks.
* All times are GMT.
For more events later in the week, see the  EUR/USD forecast
EUR/USD Sentiment
Earthquake in Christchurch New Zealand is  devastating  with many casualties. The earthquake is felt all over the financial markets and boosts the US dollar – a currency that rises in fear mode.
The situation in Libya is becoming  chaotic – a civil war. As Libya is an exporter of oil, the mess sends the prices higher and this endangers global growth – yet again helping the US dollar.
The hawkish comment by ECB member Bini Smaghi on Friday about raising the rates sent the Euro skyrocketing.
China raised the Reserve Ratio Rate. This is not the first time, but the 0.50% scale is rather large. This temporary hurt the Euro.
Irish debt is a big burden: There are growing talks of a default in Ireland. Opposition party in Ireland, Fine Gael,  wants a haircut for senior bondholders. Now they have a precedent of a  default in Denmark to rely on. The current government left this issue for the next government. Elections are held on Friday, February 25th.
A bailout for Portugal is getting closer as bond yields are rising and becoming unsustainable again.
Currensee Community: 61% are long , 39% are short. These are 1353 open positions in real accounts trading this pair at the moment.