EUR/USD is trading in a high range, as tension mounts towards Jean-Claude Trichet's rate decision and as the Egyptian crisis escalates. Will it break higher on this busy day? Here's a quick update on technicals, fundamentals and community trends.
EUR/USD Technicals
Asian session:  Very quiet trade around 1.38.
Current range – 1.3760 to 1.3830.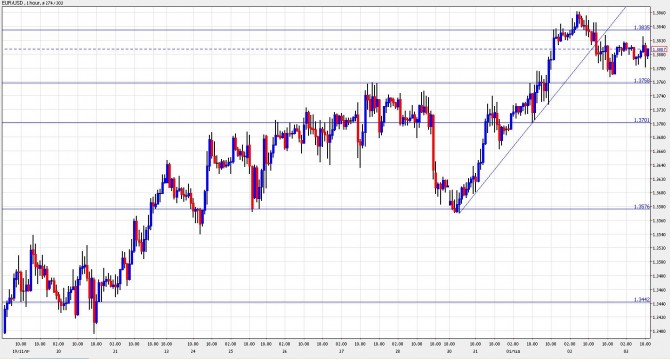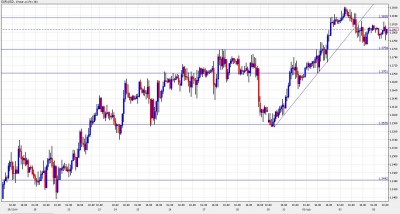 Further levels in both directions: Below    1.37, 1.3576, 1.3440, 1.3334, 1.3267, 1.3180, 1.3080, 1.2970.
Above: 1.3830,  1.3950, 1.4030, 1.4160 and 1.4230.
1.3760 turns into significant support after the breakout – it already worked as such.
1.40 is next big target, although resistance appears under and above this line.
Euro/Dollar manages taking a break after breakout- click on the graph to enlarge.
EUR/USD Fundamentals –
9:00 European Final Services PMI. Exp. 55.2. Actual 55.9 points
10:00 European Retail Sales. Exp. +0.6%.
12:45 European rate decision. Exp. Unchanged at 1%. Press conference at 13:30 will create high volatility.
13:30 US Unemployment Claims. Exp. 420K.
13:30 US Unit Labor Costs. Exp. 0.4%.
13:30 Non-Farm Productivity. Exp. 2.1%
13:30 US ISM Non-Manufacturing PMI. Exp. 57.2 points.
15:00 US Factory Orders. Exp. -0.2%.
18:00 Federal Reserve Chairman Ben Bernanke talks.
* All times are GMT.
For more events later in the week, see the  EUR/USD forecast
EUR/USD Sentiment
Inflation is becoming problematic for Europe. This comes as employment is still high. Double trouble for Europe. Trichet showed concerns about inflation and boosted the Euro. It already reached 2.4%. Will Trichet up his tone about inflation and hint a rate hike?
Egyptian crisis: Fresh escalation as anti-government and pro-Mubarak protesters clash violently. Is Egypt entering a civil war? There are rumors that Obama told the Egyptian army to bring Mubarak down. An escalation is positive for the dollar.
Greek default? Plans are drawn for a making a 25% haircut on Greek debt, codenamed "Brady plan". This has been overshadowed by the events in Egypt.
S&P downgraded Ireland's credit rating. Unsurprising, but a reminder that the crisis isn't over.
Spanish bond yields stabilized and now stand at 5.13% – still relatively low.
Currensee Community: 63% are long , 37% are short. These are 1376 open positions in real accounts trading this pair at the moment.