EUR/USD starts the week lower, and is struggling to hold on to lower support, as the uprising in Egypt continues. Will stronger  inflation boost the Euro  ?  Here's a quick update on technicals, fundamentals and community trends.
EUR/USD Technicals
Asian session:  Started the week with a small Sunday gap lower.
Current range – 1.3576 to 1.37.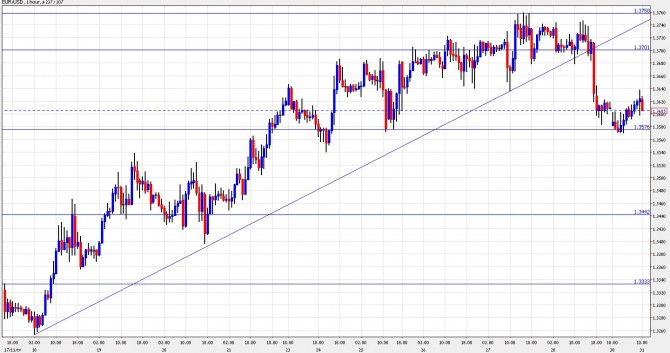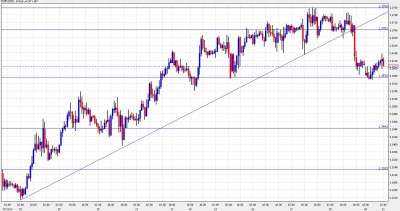 Further levels in both directions: Below    1.3576, 1.3440, 1.3334, 1.3267, 1.3180, 1.3080, 1.2970, 1.2920,  1.28, 1.2722, 1.2587.
Above     1.37, 1.3760,  1.3830,  1.3950, 1.4030 and 1.4220.
Uptrend support was broken on Friday.
1.37 is a critical line of struggle during recent days.
1.3440 is the key  downside  level – it has stopped the Euro so many times in the past.
Euro/Dollar manages to hold above 1.3576 – click on the graph to enlarge.
EUR/USD Fundamentals –
7:00 German Retail Sales. Exp. +1.9%. Actual -0.3%. Disappointing for the Euro.
10:00 European CPI Flash Estimate. Exp. +2.4%.
13:30 US Personal Spending. Exp. +0.6%.
13:30 US Core PCE Price Index. Exp. +0.1%.
13:30 US Personal Income. Exp. +0.5%.
14:45 US Chicago PMI. Exp. 65.5 points
* All times are GMT.
EUR/USD Sentiment
Egyptian crisis continues. While the events have slowed down, it's clear that there will be significant change, and it all depends on who will gain control..
Greek default? Plans are drawn for a making a 25% haircut on Greek debt, codenamed "Brady plan". This has been overshadowed by the events in Egypt.
British contraction in Q4 weighs on the Euro.
The Irish parliament approved the finance bill, the final seal for the EU / IMF bailout program..
Inflation is becoming problematic for Europe. This comes as employment is still high. Double trouble for Europe. Trichet showed concerns about inflation and boosted the Euro. We'll see today if there's an acceleration in inflation.
Currensee Community: 66% are long , 34% are short. These are 1472 open positions in real accounts trading this pair at the moment.