EUR/USD is losing ground, retracing some of the huge gains it made last week. It now approaches a support line. Does this start show the way for the rest of the week? Here's a quick update on technicals, fundamentals, and community trends.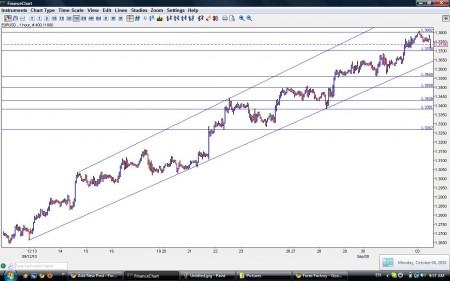 EUR/USD after Itish decision.
EUR/USD Technicals
Asian session:  Quiet session ranging with EUR/USD trading around 1.38. The fall came in the wake of the London session.
Current Range between 1.37 to 1.38.
Further levels in both direcstions: Below,  1.3530, 1.35, 1.3430, 1.3365, 1.3267, 1.3160, and 1.3110.  Above  1.3850, 1.40 1.42 and 1.4450.
Wide uptrend channel: Uptrend resistance began on Sep. 8 and uptrend support on Sep. 13. Trading is characterized with many hours of consolidation, followed by  few hours of sharp rises.
EUR/USD Fundamentals
All times are GMT. Most important events emphasized.
8:30 Sentix Investor Confidence. Exp. 8.3.
9:00 PPI. Exp. +0.2%.
14:00 US Pending Home Sales. Exp. +2.8%.
14:00 US Factory Orders. Exp. -0.3%.
19:00 Federal Reserve chairman Ben Bernanke talks.
EUR/USD Sentiment
The  big question regarding Ireland remains about the "haircut" that debt holders will have to pay. News about the size of concessions can still rock the Euro.
Debt issues never went away, but the market disregards them. This could change this week.
The inevitable second round of quantitative easing in the US still weighs on weakens the dollar.
Holding on to 1.37 is important for the Euro.
The rush to close positions on Friday always triggers lots of action.
Pending Home Sales are the main event.
Currensee Community: 53% are long, 47% are short. These are 1051 open positions in real accounts trading this pair at the moment.
Want to see what other traders are doing in real accounts? Check out Currensee. It's free..