EUR/USD drifts into lower range as discussions in Europe continue and the fear of a meltdown in Japan's nuclear reactors continues. Will we see a breakout after the US rate decision? Here's a quick update on technicals, fundamentals and community trends.
EUR/USD Technicals
Asian session:  After trading at high ground, Euro/Dollar drifted to a lower range and made swings towards lower support.
Current range – 1.3860 – 1.3950.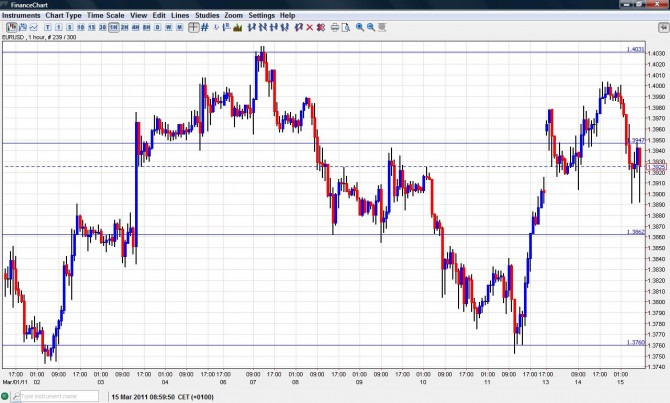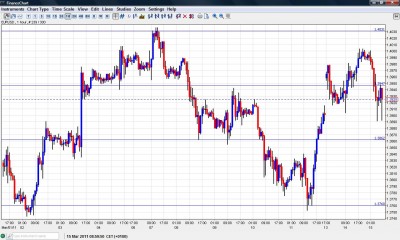 Further levels in both directions: Below 1.3860, 1.3760, 1.37, 1.3610, 1.35, 1.3440, 1.3334, 1.3267, 1.3180, 1.3080, 1.2970.
Above:  1.3950, , 1.4030, 1.4160, 1.4282, 1.44
While the round number of 1.40 is eyed by many, real resistance is only at 1.4030. This was clearly seen just now.
Support at 1.3860 is of importance once again, as it prevented significant falls.
Euro/Dollar in same range under resistance – click on the graph to enlarge.
EUR/USD Fundamentals –
6:30 French CPI. Exp. +0.6%. Actual +0.5%.
10:00 German ZEW Economic Sentiment. Exp. 16.2 points.
10:00 All-European ZEW Economic Sentiment. Exp. 34.5 points.
12:30 US Empire State Manufacturing Index. Exp. 16.2 points.
12:30 US Import Prices. Exp. +0.9%.
13:00 US TIC Long-Term Purchases. Exp. 59.3 billion.
14:00 US NAHB Housing Market Index. Exp. 17 points.
18:15 US Rate decision. Statement expected to be moderately hawkish.
* All times are GMT.
For more events later in the week, see the  EUR/USD forecast
EUR/USD Sentiment
Japanese Earthquake rocks markets: The markets refuse to settle down after the big pledge by the BOJ for stability. The fires and blasts at one of the nuclear reactors made USD/JPY very nervous, and this affects other currencies as well.
FOMC Statement: The Members of the Federal Reserve meet to make a decision on the rates in the US. No change is expected, but every word of the statement will be closely eyed. Expectations are for a hint about completing the QE2 program and not commencing on QE3. This may be moderately positive for the US dollar.
Bailout for Portugal – While a higher commitment to help the Euro-zone has been heard at the summit, the decisions made there fall short of a solution for Portugal. It's getting closer. Today, the economy ministers meet. Here's a  full analysis of the EU Summit.
Moody's downgrades Spain's credit rating by one level to AA2 but at the moment, Spanish bond yields are falling, showing hope that the crisis will pass over the Euro-zone's fourth largest economy.
Currensee Community: 60% are long , 40% are short. These are 1369 open positions in real accounts trading this pair at the moment.