EUR/USD finally made a significant convincing breakout. The trigger was the international intervention to weaken the yen. Will it close the week at these levels. Here's a quick update on technicals, fundamentals and community trends.
EUR/USD Technicals
Asian session:  Dramatic session saw EUR/USD convincingly break above 1.4030 and later touch 1.41.
Current range – 1.4030 – 1.41160.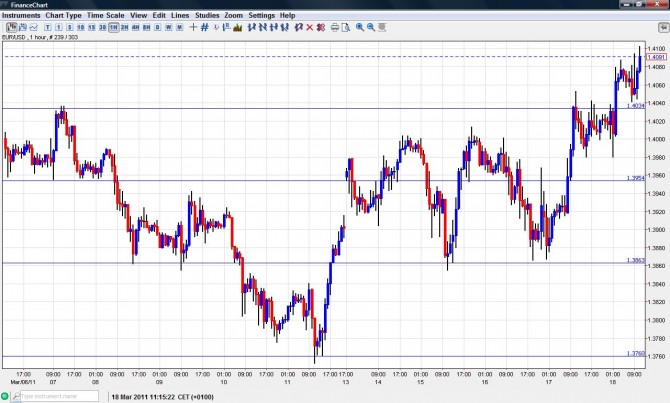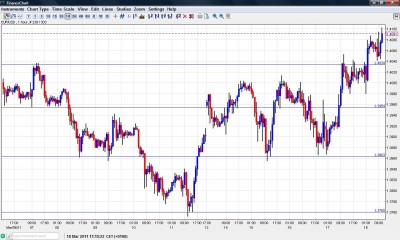 Further levels in both directions: Below 1.4030, 1.3950, 1.3860, 1.3760, 1.37, 1.3610, 1.35, 1.3440, 1.3334, 1.3267, 1.3180, 1.3080, 1.2970.
Above:    1.4160, 1.4282, 1.44, 1.4540
1.4030 now turned into important support after being broken.
Initial resistance is at 1.4160, but the much more important line is 1.4282.
Euro/Dollar in same range and looking to move higher – click on the graph to enlarge.
EUR/USD Fundamentals –
7:00 German PPI. Exp. +0.7%. Actual +0.7%.
9:00 European Current Account. Exp. -10.6 billion. Actual +0.7 billion.
10:00 European Trade Balance. Exp. -2 billion. Actual -3.3 billion.
* All times are GMT.
For more events later in the week, see the  EUR/USD forecast
EUR/USD Sentiment
International Currency Intervention: The G7 countries intervened to push the yen lower and aid Japan's economy in the face of the earthquake. This sent USD/JPY all the way to above 81, and also included intervention in EUR/JPY. The ECB and the central banks of Germany and Italy bought Euros and sold yens. The result was the breakout in EUR/USD as well.
Libyan Airstrikes Approved: The UN Security Council authorized air strikes on Libya, complicating the situation. This sent oil higher and weighs on the US dollar, also against the Euro. See a full analysis of the UN decision on Libya and the implications for oil and the dollar.
Bailout for Portugal – Portuguese officials warn that if the budget isn't approved, they'll seek a bailout.Together with the credit downgrade by Moody's and the weak decision in the EU Summit, this makes the bailout closer. Here's a  full analysis of the EU Summit.
FOMC Statement: Ben Bernanke and the other members made no changes to the interest rate or the QE2 program. But, the statement was relatively hawkish, dedicating many words to "monitoring inflation". See the FOMC Review for more.
Currensee Community: 60% are long , 40% are short. These are 1402 open positions in real accounts trading this pair at the moment.