EUR/USD is drifting lower as the all-important EU Summit is flooding the news, with hopeful and disappointing headlines alike. How will the Euro close the week?. Here's a quick update on technicals, fundamentals and community trends.
EUR/USD Technicals
Asian session:  Quiet session saw the Euro mostly unchanged above 1.4160 – the fall began afterwards..
Current range – 1.4030 – 1.4160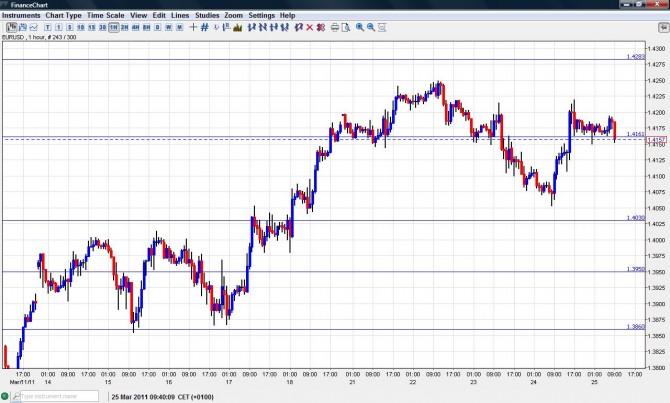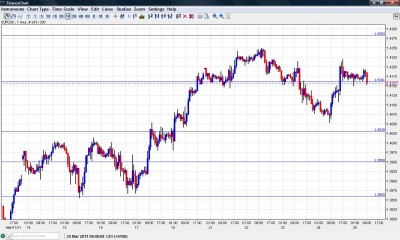 Further levels in both directions: Below 1.4030, 1.3950, 1.3860, 1.3760, 1.37, 1.3610, 1.35, 1.3440, 1.3334, 1.3267, 1.3180, 1.3080, 1.2970.
Above:    1.4160, 1.4282, 1.4450, 1.4580, 1.48, 1.50.
1.4160 turned into a pivotal line.
1.4282 couldn't be challenged. This is the highest level in a year (reached in November). We currently see a bounce.

1.4030 now turned into important support after being broken – this is the key level to lower ones. The pair escaped it after the fall of the Portuguese government.
Euro/Dollar losing some steam  – click on the graph to enlarge.
EUR/USD Fundamentals –
7:00  German Import Prices. Exp. +1%. Actual +1.1%.
9:00  German Ifo Business Climate. Exp. 110.6 points.
9:00 European  M3 Money Supply. Exp. +1.7%.
9:00 US FOMC Member  Narayana Kocherlakota talks. His views are mixed.
11:30 US FOMC Member Richard Fisher talks. He is a hawk.
12:30 US  Final GDP. Exp. 3%.
13:55 US Consumer Sentiment. Exp. 68.1 points.
16:15 US FOMC Member  Charles Plosser talks. His opinions are mixed.
* All times are GMT.
For more events later in the week, see the  EUR/USD forecast
EUR/USD Sentiment
Bailout for Portugal – After the Portuguese government collapsed, hints that the opposition will help with approving the budget helped the Euro. But the bailout is getting closer. Also rating agency S&P downgraded Portugal, following the lead of Moody's and Fitch. Also the markets see a bailout and send yields on Portuguese bonds through the roof – above 8%.
EU Summit:. Many things are still unclear in the second day of the summit: this includes easing Ireland's terms, and deciding on expanding the bailout fund, something that seemed like a done deal in the first summit. Here's a  full analysis of the first EU Summit. Headlines from Brussels will rock the Euro.
European officials state rate hike is underway:  European central bankers make their message very clear – the rate is going to rise. These talks  sent the Euro higher, and they join the mix of European talks.
American GDP: The last release of GDP for Q4 of 2010 will also get some attention. An upwards revision above 3% will boost the dollar.
Libyan Airstrikes Weakening: Air strikes in Libya began over the weekend but have waned off.  See a full analysis of the UN decision on Libya and the implications for oil and the dollar. Currentl oil continues to rise as the regime in Yemen is on the brink of collapse, and Mid-East protests have spread to as far off as Syria.
Currensee Community: 62% are long , 38% are short. These are 1303 open positions in real accounts trading this pair at the moment.