EUR/USD started the week with a Sunday gap at the important support line, as bad news flows from Europe and important US data is due later today.  Here's a quick update on technicals, fundamentals and community trends.
EUR/USD Technicals
Asian session:  After opening with a weekend gap, EUR/USD stabilized higher above support at 1.4058.
Current range – 1.4030 – 1.4160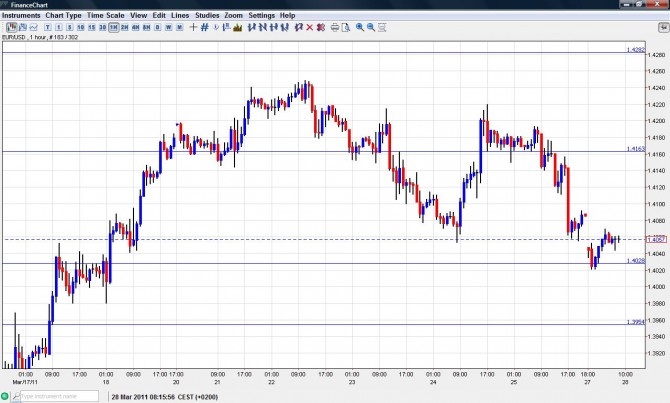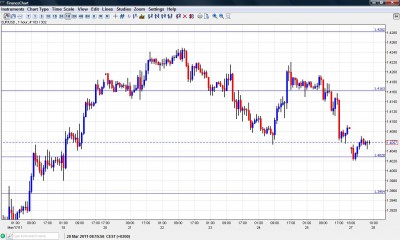 Further levels in both directions: Below 1.4030, 1.3950, 1.3860, 1.3760, 1.37, 1.3610, 1.35, 1.3440, 1.3334, 1.3267, 1.3180, 1.3080, 1.2970.
Above:    1.4160, 1.4282, 1.4450, 1.4580, 1.48, 1.50.
1.4030, the important support line, is now undergoing serious tests.

1.4160 turned into a pivotal line.
1.4282 couldn't be challenged. This is the highest level in a year (reached in November). We currently see a bounce.
Euro/Dollar bouncing off support  – click on the graph to enlarge.
EUR/USD Fundamentals –
12:30 US  Personal Spending. Exp. +0.6%.
12:30 US Personal Income. Exp. +0.5%.
12:30 US  Core PCE Price Index. Exp. +0.2%.
14:00 US  Pending Home Sales. Exp. unchanged.
15:00 ECB President Jean-Claude Trichet talks.Is expected to reiterate the call for an interest rate hike.
19:40 US FOMC member Charles Evans talks. Will likely be hawkish.
* All times are GMT.
For more events later in the week, see the  EUR/USD forecast
EUR/USD Sentiment
Irish Banks Default: After the second EU summit failed to find a better solution for the current problematic Irish bailout scheme, the government moves on to use the default / restructuring weapon. Here's an analysis of the Irish move and the meaning for the euro.
Hawkish Federal Reserve: Over the weekend and beforehand, many Fed official spoke out about stopping QE2 and one member, Charles Plosser, also spoke about raising the rates. This has helped the dollar across the board.
Bailout for Portugal – After the Portuguese government collapsed, the recent credit downgrades by Moody's, Fitch and S&P and the yields that are over the roof, ECB member Evald Nowotny made an open call for a bailout. This isn't good for the Euro.
European officials state rate hike is underway:  European central bankers make their message very clear – the rate is going to rise. These talks  sent the Euro higher, and they join the mix of European talks.
Mid-East Crisis: The focus of tensions in the Middle East is now in Syria, which has seen serious riots and in Yemen, after the Libyan rebels recaptured important cities. Oil prices are weakening and this helps the dollar, at least until the next round.
Currensee Community: 61% are long , 39% are short. These are 1264 open positions in real accounts trading this pair at the moment.