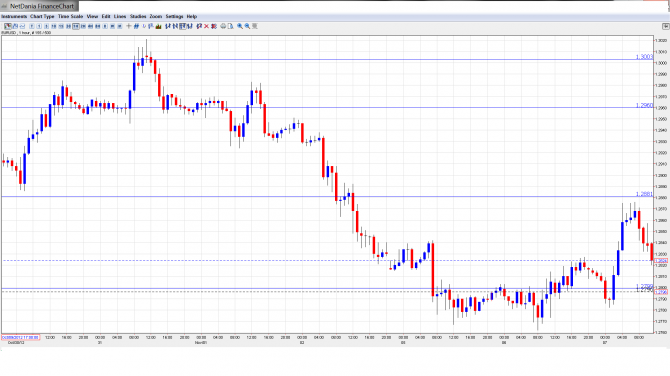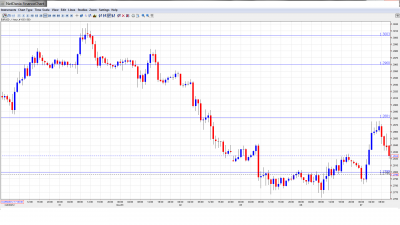 EUR/USD  is under pressure  following the US election results, which showed President Obama defeating  Republican challenger Mitt  Romney. The  euro improved shortly after the announcement of an Obama win, but has since  given up most of those gains. In the presidential contest, the popular  vote was quite  close, but  Obama had little trouble racking up enough electoral votes to propel him to victory. In today's Euro-zone releases, Euro-zone Retail Sales fell below the estimate, and German Industrial Production slumped to a five-month low. All eyes will be on Athens today, as the Greek Parliament votes on the government's austerity package. The vote could determine if Greece receives a second tranche of aid under the bailout agreement.
Here's an update about technical lines, fundamental indicators and sentiment regarding EUR/USD.
EUR/USD Technical
Asian session: Euro/dollar improved, trading  as high as  1.2850. The pair  is unchanged  in the European session.
Current range: 1.28 to 1.2880.
Further levels in both directions:    
Below: 1.2750, 1.2650, 1.2590 and 1.25.
Above: 1.28, 1.2880, 1.2960, 1.30, 1.3030, 1.3080, 1.3140, 1.3170, 1.3290 and 1.34.
1.28 is providing support, but could be tested as the pair has weakened.
1.2880 is the next line on the upside.
Euro/dollar  higher after  Obama election win- click on the graph to enlarge.
EUR/USD Fundamentals
10:00  Euro-zone Retail Sales. Exp. 0.0%. Actual -0.2%.
11:00  German Industrial Production. Exp. -0.4%. Actual -1.8%.
15:30 US Crude Oil Inventories. Exp. 1.8M.
18:00 US 10-year Bond Auction.
Tentative: Greek Government Debt Crisis Vote.
20:00 US Consumer Credit. Exp. 10.1B.
For more events and lines, see the Euro to dollar forecast
EUR/USD Sentiment
US votes Obama: President Barack Obama  was reelected to a second term as  president, as he  tallied  around 300 electoral votes and decisively defeated  Republican Mitt Romney. Most of the swing states supported the Democrats, giving Obama a resounding victory. The popular vote, which has not yet been fully tabulated, points to a very close race, with Obama enjoying a slim lead. In the congressional races, the picture remained pretty much the same. The Democrats retained control of the Senate, while the Republicans kept their majority in the House of Representatives. This means that Congress will continue to be  divided  along partisan lines, and could mean more President Obama will face more gridlock on Capital Hill during in his second term in office.
Greek Parliament votes on austerity package:  Now that the US elections are finally over,  the markets will be focusing on Athens, as the Greek government tries to win approval for its austerity plan.  Parliament votes  today on the plan, which  includes drastic spending cuts and tax hikes, and is meant to save 13.5 billion euros in the 2013 budget. The  vote, which is expected to go in the government's favor,  could determine whether Greece receives the next tranche of the bailout package, which has been on hold since May. Prime Minister Antonis Samaras has warned that if the austerity  plan and 2013   budget are  rejected by Parliament, Greece will "descend into chaos". Samaras has promised that these will be the last cuts to wages and pensions, but most Greeks, hard-hit by the economic crisis, are understandably skeptical.  A massive 48-hour strike began on Tuesday, bring Greece to grinding halt.
Will Greece remain in the Euro-zone?: Since the debt crisis hit, this question has often been asked, but the answer is anything but simple.  With the huge political and economic problems that are rocking Greece, the country's  membership in the EZ seems to be getting more  and more tenuous. Both Greece and Germany may  have reached  their limits, and there are  several other  reasons why  we could see a Grexit.  
Constitutional obstacle to Greek bailout deal: The thorny negotiations between the Greek government and the troika are not only dependent on economic and political factors, but constitutional issues as well. Two months ago, a German court ruled that the ESM was constitutional as far as Germany was concerned. Now, a Greek court has said that proposed retirement age hikes and pension cuts, demanded by the troika, could be unconstitutional. This could present another snag to the next tranche of aid for Greece, which desparately needs the funds to stay afloat.
Will Spain ask for aid?: Economic indicators in Spain continue to point to a recession, and the economy shows no sign of improving in the near future. Employment numbers continue to worsen . Flash GDP declined for the fourth straight quarter, dropping by 0.3% in Q3, and the recent PMIs point to further contraction.Yet, despite the worsening economy, the government appears in no rush to ask for an aid package, although it is "considering" doing so at some point. Spain's borrowing costs have improved from their unsustainable levels, resulting in less pressure on the government to request an aid package. German Finance Minister Wolfgang Schaeuble, who has taken a tough stance on Greece, had warm words for Spain, saying it was on the "right path" and was taking steps to improve its economic imbalances.