EUR/USD put the brakes on this week's slide after the US Federal Reserve policy meeting on Wednesday. Analysts were  keenly attuned to the meeting, as it was the first since the Fed  implemented QE3. The Fed  expressed cautious optimism  about the US economy, and, as expected, maintained its benchmark interest rate at 0%-0.25%. There is confusion in the markets after a  draft agreement between Greece and the troika was leaked.  If the reports about a deal are legitimate, we could see a rally by the euro. Today's Euro-zone data was weak, including a disappointing M3 Money Supply reading. In the US, New Home Sales beat the estimate, and the markets will be watching to see if there is more good news from today's key US releases – Core Durable Goods Orders, Unemployment Claims and Pending Home Sales.
Here's an update about technical lines, fundamental indicators and sentiment regarding EUR/USD.
EUR/USD Technical
Asian session: Euro/dollar edged higher, testing the 1.30 line. The pair is steady in the European session.
Current range: 1.30 to 1.3060.
Further levels in both directions: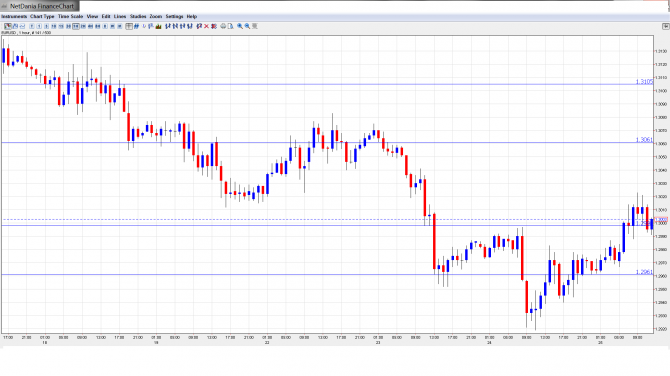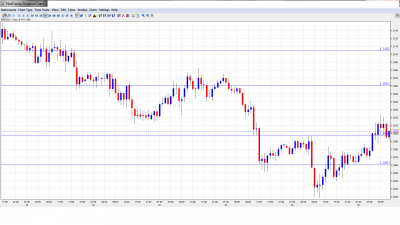 Below: 1.30, 1.2960, 1.29, 1.2814, 1.2750, 1.2670, 1.2624 and 1.2587.
Above: 1.3060, 1.3105, 1.3170, 1.3290, 1.34, 1.3437 and 1.3480.
The pair is testing the important 1.30 line.  1.3060 is the next line on the upside.
1.2960 is the next line of support.
Euro/dollar edges up after FOMC policy meeting- click on the graph to enlarge.
EUR/USD Fundamentals
8:00 Euro-zone M3 Money Supply. Exp. +3.0%. Actual +2.7%.
8:00 Euro-zone Private Loans. Exp.-0.4%.  Actual -0.8%.
9:00 Italian Retail Sales. Exp. +0.3%. Actual 0.0%..
12:30  US Core Durable Goods Orders. Exp. +0.8%.
12:30 US Unemployment Claims. Exp. 371K.
12:30 US Durable Goods Orders. Exp. +7.1%.
14:00 US Pending Home Sales. Exp. +2.3%.
14:30 US Natural Gas Storage. Exp. 66B.
EUR/USD Sentiment