EUR/USD  began the week with a slow grind downwards and lost the 1.30 line. The pair is now at low support. A German ECB member, Asmussen, removed the option of ECB flexibility towards Greece and said that the relative calm is deceptive. In Spain, mixed messages about taking the bailout were made. Some outrage was caused by one of Merkel's top economic  advisers, who said the blunt truth about the bailouts – helping German banks. The Eurogroup meets today but the main topic, Greece, will have to wait, at least after Merkel's interesting visit to Athens tomorrow.
Here's an update about technical lines, fundamental indicators and sentiment regarding EUR/USD.
EUR/USD Technical
Asian session: Euro/dollar  slid from the highs and began a struggle with 1.30.
Current range: 1.2960 to 1.30.
Further levels in both directions: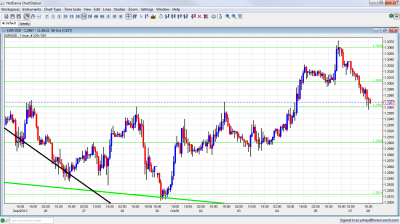 Below: 1.2960, 1.2900, 1.2814, 1.2750, 1.2670, 1.2624, 1.2587, 1.2520 and 1.2460.
Above: 1.30, 1.3060, 1.3105, 1.32, 1.3290, 1.34, 1.3437, 1.3480 and 1.3540.
1.3060 is a strong line on the upside.
1.2960 is a clear separator on the downside.
Euro/dollar sliding ahead of Merkel's visit to Athens- click on the graph to enlarge.
EUR/USD Fundamentals
6:00 German Trade Balance. Exp. 15.8 billion. Actual 18.3 billion.
8:30 Euro-zone  Sentix Investor Confidence. Exp. -20.6. Actual -22.2 points.
10:00  German Industrial Production. Exp. -0.7%.
From 13:00 Eurogroup meetings.
EUR/USD Sentiment