After a terrible week for the Euro, it now expects a relatively calm week, with the ZEW Economic Sentiment being the highlight. Here's an outlook for the European events, and an updated technical analysis for EUR/USD, now at much lower ground.
EUR/USD graph with support and resistance lines on it. Click to enlarge: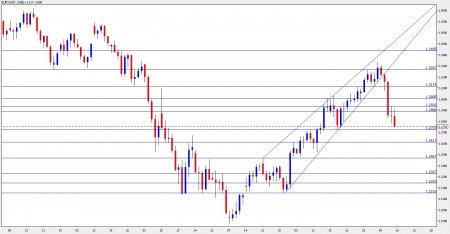 Excellent GDP figures on Friday failed to help the Euro – the gloomy mood in the markets, triggered by Ben Bernanke sent it lower. Will the Euro stabilize this week? Let's start:
CPI: Published on Monday at 9:00 GMT. European inflation is on the rise, but still within the target levels. The initial release for consumer prices showed an annual rate of 1.7%. This is expected to be confirmed now. Core CPI, which is more closely watched by the ECB, is expected to be confirmed at 1% for the month of July.
Current Account: Published on Tuesday at 8:00 GMT. This figure, that sums up the trade balance figure as well as the net difference in services and cash flows, disappointed with a deeper deficit last month – 5.8 billion euros. This deficit is expected to squeeze to 3.7 this time.
ZEW Economic Sentiment: Published on Tuesday at 9:00 GMT. This major indicator dropped sharply in recent months. 350 German investors and analysts sent the indicator down from 53 points in April to 21.2 in July. This survey's score is expected to slide down from 21.2 to 20.9. It will be interesting to see the mood of investors. Note that the indicator is also published for the whole continent, with the score expected to remain at around 10.7 points. The German figure has a stronger impact, and tends to hurt the Euro.
German PPI: Published on Tuesday at 6:00 GMT. Producer prices in Europe's largest economy have been stronger than expected in recent months, but don't threaten price stability. Last month's rise of 0.6% will probably be followed by a 0.2% rise this time.
EUR/USD Technical Analysis
The jump above 1.3267 that happened after the Non-Farm Payrolls was quickly erased at the beginning of the week as EUR/USD fell below 1.3267 and violated the uptrend channel. After some flirting with the 1.3114 line, the Fed decision eventually sent the pair sharply down, with only a temporary rise,  to 1.2750, over 500 pips this week.
EUR/USD now trades between 1.2722, that worked as resistance when the Euro was moving upwards a few weeks ago, and 1.2880, which served as support in 2009 and is now a minor line of support.
Higher, 1.2930 capped the Euro in the past week, and is a new line of resistance (it didn't appear in last week's outlook). Above, the round psychological number of 1.30 provides minor resistance, and is quoted many times.
Above, 1.3114, which was a significant line of support and resistance in the past two weeks, continues to be of importance, despite being violated several times. Even higher, 1.3267, is the next resistance line, followed by 1.3435. Both were support lines in the past.
Looking down below 1.2722, the next minor support line is 1.2610, which worked as a resistance line in May and July. Further down the road, 1.2460 is already a stronger line, working as strong resistance line in June.
Even lower, 1.2250 is the next minor support line, and its followed by a very strong line: 1.2150. This clear line of support held the Euro 4 times, and after it broke below this line, it needed a weekend gap to return back up.
I am bearish on EUR/USD.
Despite excellent numbers for the second quarter, there are 3 fundamental reasons why the party is over. And with the break of the uptrend channel, also technical point to one direction – down.
This pair receives excellent reviews on the web. Here are my favorites:
Casey Stubbs is looking to short EUR/USD.
Mohammed Isah sees consolidation to downside weakness.
James Chen focuses on a less steep uptrend channel, which the pair now touched its bottom.
Andrei posts technical levels for the Euro and other pairs on a weekly basis.
TheGeekKnows provides a review of the past week and a look forward.
Further reading:
Want to see what other traders are doing in real accounts? Check out Currensee. It's free..