Filecoin price breakout from a double bottom pattern yields 177% gain.
Daily Relative Strength Index (RSI) confirming price highs, but overbought.
Volume has supported the rally the entire time.
Filecoin price has rallied 650% from the February 24 low at $31.57, and it is one of the biggest rallies in the cryptocurrency complex over that time frame. However, momentum could be waning as today's candlestick is currently showing a bearish reversal in the form of a shooting star. If it holds, it should prompt traders to capture recent gains or resist taking new trades.
Filecoin price is ready for a consolidation
A shooting star is a single candlestick reversal pattern, defined by a small real body and a long upper shadow, and is commonly found in a lengthy uptrend that is beginning to stumble. It highlights how buyers are struggling to bid prices higher but are eventually overcome by heavy selling that knocks prices down near the candlestick low.
With bullish momentum waning, a few support levels need to be considered by traders. Based on the Fibonacci retracements level, the first support is the 0.382 retracement at $174.86, followed by the 0.50 retracement at $155.44. A critical area of support emerges between $125.50-136.00, which includes the 0.618 retracement at $136.02, the 10-week simple moving average (SMA) at $131.36, and the topside trend line at $125.55.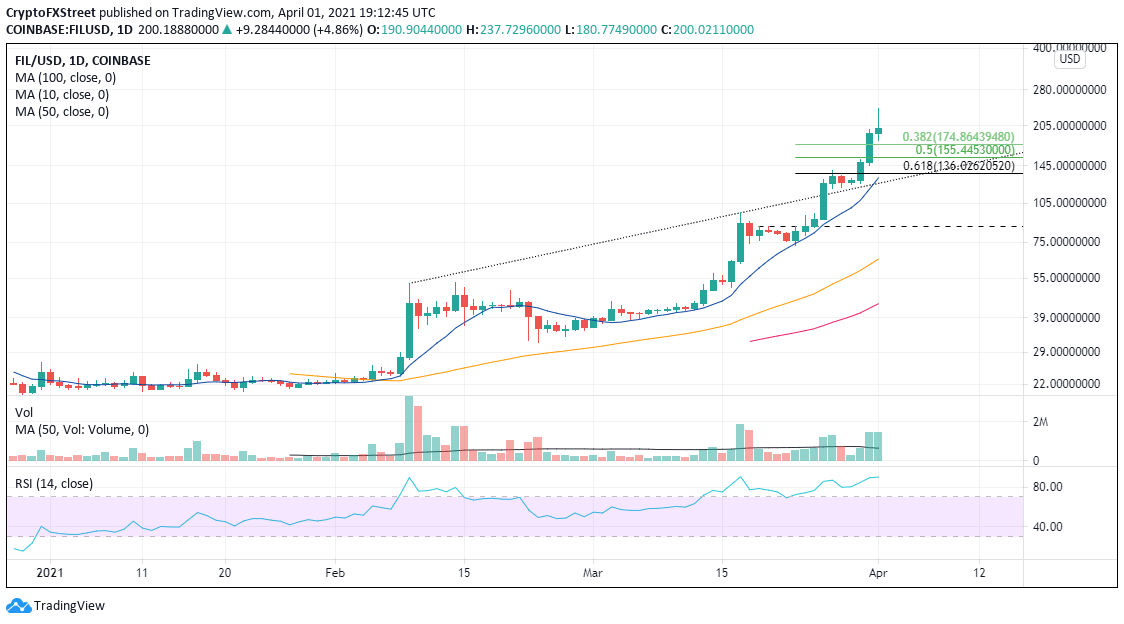 FIL/USD Daily Chart
Buyers may resurface today, but in light of the massive gain of almost 180% over the last ten days, bullish traders should at the very least anticipate a consolidation, maybe in the form of a pennant or flag pattern.