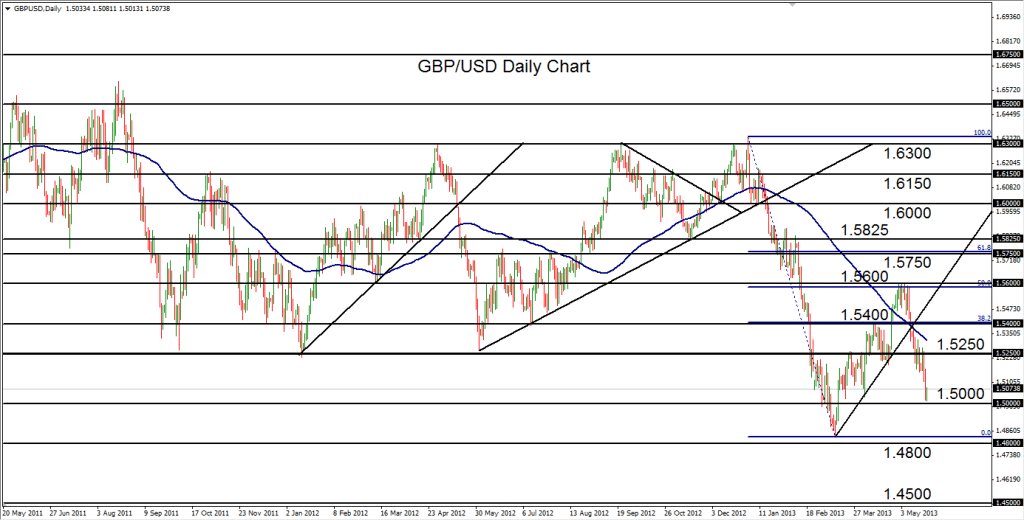 May 23, 2013 – GBP/USD (daily chart) has stalled in its dramatic plunge of the past two weeks just above its key downside support target at the 1.5000 figure. In the process, the pair has established a new two-month low. This drop to key support began in early May after price rose to the 1.5600 resistance level, which was right at the 50% Fibonacci retracement of the prior plunge from 1.6300-area resistance in the beginning of the year down to 1.4800-area support in mid-March.
Current price action for this pair is behaving technically and giving indications of a classic bearish trend scenario. Despite the current stalling around support, the pair appears poised for further downside and a potential continuation of the entrenched bearish trend. With key resistance now residing around the 1.5250 price region, downside support barriers/objectives reside first around the current 1.5000 level, then the 1.4830 multi-year low, and down further towards the 1.4500 support area for a downtrend continuation.
James Chen, CMT
Chief Technical Strategist
City Index Group
Forex trading involves a substantial risk of loss and is not suitable for all investors. This information is being provided only for general market commentary and does not constitute investment trading advice. These materials are not intended as an offer or solicitation with respect to the purchase or sale of any financial instrument and should not be used as the basis for any investment decision.